Intoxicated Men on Cader Idris
Shortly before 3:00 p.m. on Sunday 24th July, call-handlers from Aberdyfi Search & Rescue Team received a report of an intoxicated and unconscious man on Cader Idris.
The man, in his 20's and one of a party of eight, had collapsed on the mountain and his party, also potentially intoxicated, had left him there to raise the alarm.
Through further conversations with the party, Team volunteers were able to obtain a rough description of the man's location, different from the original information but coinciding with reports of shouting heard by other walkers coming off the mountain. Crucially, it also transpired that another member of the party was also missing on the mountain.
In unseasonably poor weather, volunteers were dispatched up the hill to begin searching the area in question, and key equipment was carried up the mountain as it arrived.
The initial search parties quickly encountered the man reported as being unconscious, but now back on his feet, and he was escorted down off the mountain while the search for his companion continued. With little information to work with, and the initial searches of the most likely routes drawing a blank, the search started to open up into more remote areas of the mountain, and other assets such as search-dogs were being requested.
One of the search parties reported a distant light coloured object in a gully to the south of the initial search area, and spotters working from the foot of the mountain confirmed that it appeared to be a person. The party made their way across difficult terrain to reach the man, who was alive but had sustained significant injuries in what looked like a tumbling fall.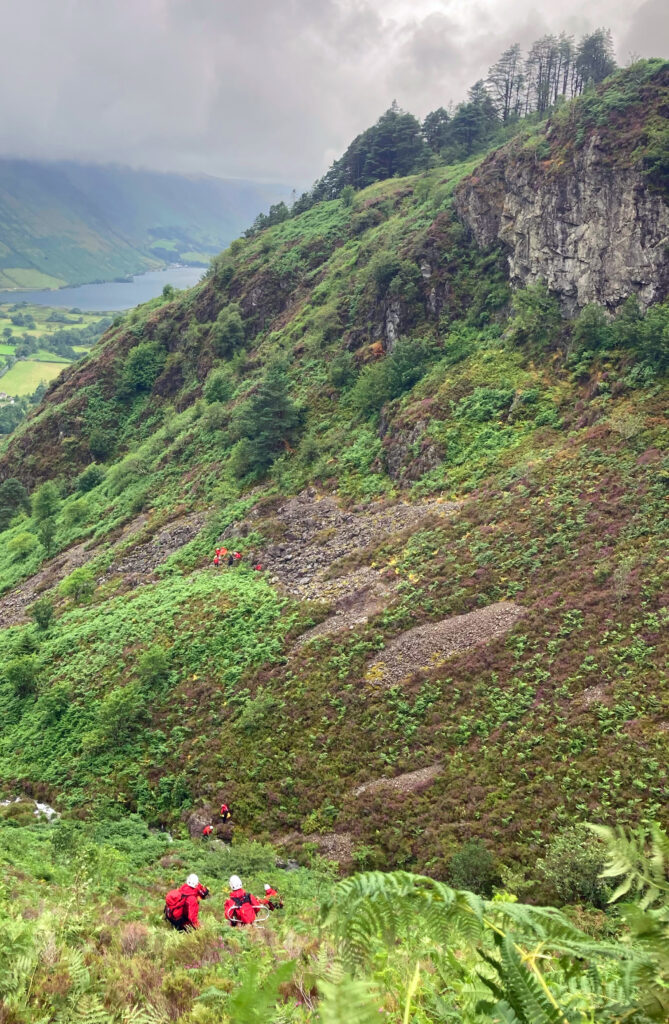 The casualty was stabilised as a request for aircraft support was placed. Fortunately the cloud base had lifted sufficiently for Coastguard Rescue 936 to reach the location, and the injured man was airlifted to Ysbyty Gwynedd for further assessment and treatment.
Team volunteer Graham O'Hanlon attended the incident. "The men were not equipped for the poor weather on the mountain, or for finding their way around it, and they made some poor choices that nearly cost at least one man his life. But for the light colour of the man's track-suit, we may not have spotted him in time."
A total of 17 Team volunteers were involved in the various search and rescue operations, and everyone was safely down off the hill by 8:45 p.m.