Walkers encouraged to give some love back to paths and trails as figures boom, with 24 million people walking at least twice a month, causing footpath repair costs to escalate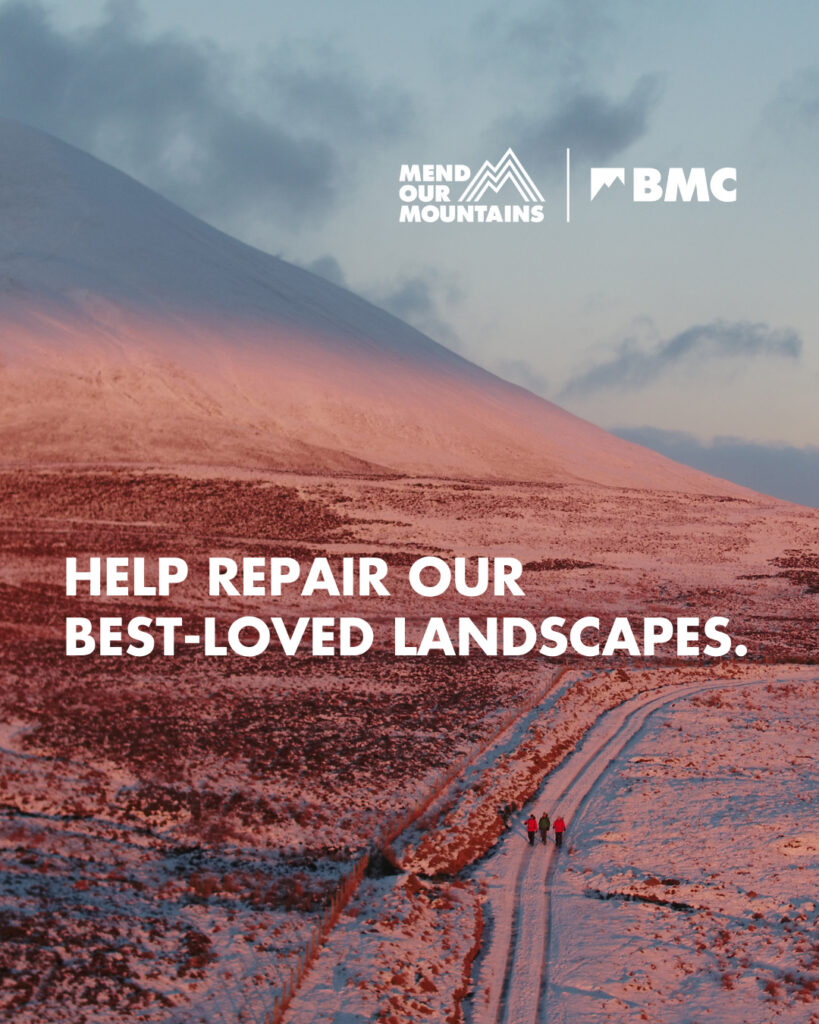 A new Mend Our Mountains campaign from the British Mountaineering Council (BMC) provides a route for outdoor-goers to help protect and restore some of the UK's best-loved landscapes.
Walking for leisure is one of the UK's fastest-growing activities, with the latest data from Sport England revealing that 24 million of us now walk at least twice a month. According to the Active Lives survey, walking is the only activity that continued to see numbers rise since the pandemic, with an additional 2.4m walking for leisure.
The BMC – the representative body for hill walkers, climbers and mountaineers – have launched a new campaign with a call to action for every single outdoor-goer. The message of Mend Our Mountains is simple: show some love back to the paths and trails that make it possible to explore outdoors.
Our paths, trails and bridleways form an iconic system that is the lifeblood of the Great British outdoors, however with walking experiencing a boom in popularity, the cost of path repair sits at around £250 to fix just one metre of footpath, and £1000 to fly in one bag of stone.
The BMC's Mend Our Mountains campaign will fund a number of projects around the UK, to restore access routes and repair some of our most well-loved (and well-worn) paths and trails. These local gems connect to form part of a treasured national network of trails that help us all enjoy the great outdoors, enhancing health and wellbeing across the country.
In 2023-4 Mend Our Mountains projects will include:
Roseberry Topping: restoring the access routes on one of the North East's most iconic peaks
Coast To Coast Path: repairing a section of the classic path in the Lake District which, despite being one of the most famous routes in the UK, has not enjoyed any formal protections for many years
South Downs Way: path repair, including the Longman of Wilmington
Cotswolds: training volunteer wardens and rangers so they can repair paths and rights of way
Get Stuck In: volunteer work days in the Peak District, Lake District and Eryri (Snowdonia)
Yorkshire Dales: path repair pilot programme to discover news ways of engaging walkers and outdoor users with the challenges of path repair
Inigo Atkin, Fundraising and Campaigns Officer at the BMC said, "It's fantastic to see so many people enjoying the benefits of walking. Increasing numbers means the cost of maintaining those paths is rising too. Mend Our Mountains allows walkers to give something back so people can continue to enjoy them into the future."
Anna Jones, Partnership Account Manager at Cotswold Outdoor and Snow+Rock said: "When it comes to remote path repair, every penny really does count. That's why we're a proud partner of the British Mountaineering Council supporting their Mend Our Mountains initiative to protect and repair the paths, trails and bridleways that form the lifeblood of the Great British outdoors."
More people than ever are enjoying the great outdoors. That means more people than ever can get involved to help restore and protect the landscapes we love. By supporting Mend Our Mountains, hill walkers and outdoor-goers can directly help paths and people around the UK.
To support Mend Our Mountains, visit the BMC website and donate to a project near you. From 4 April until 4 July, every shopper in-store at Cotswold Outdoor and Snow+Rock will be offered the chance to add a donation of as little as one penny towards the Mend Our Mountains initiative. Or, Get Stuck In at a volunteer work day.