Buxton Mountain Rescue Team invites you to join them for BMRT Live on Facebook and YouTube 25th April at 19:00 GMT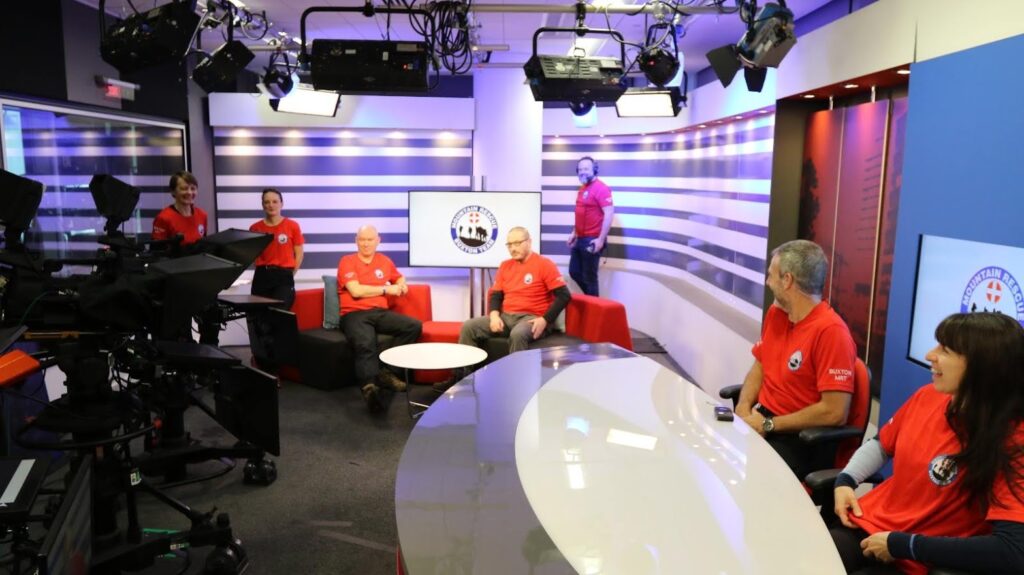 Tune in for 45 interesting and insightful minutes with us, as we explain who we are, what we do and how we do it. With many mountain rescue teams having to adapt and survive during the pandemic we wanted to show how social media can be a great tool for us to educate, inform, entertain and fundraise.  Thanks to our friends Luke Leutner and Sound Credit TV we're going live and we'd like you to join us.
Back in the Autumn of 2019 the team was contacted by Luke, a final year student at Salford University, about an exciting project he had in mind.
"The idea for this project started when I had to come up with a programme idea for my final year university project. I'd already filmed a short documentary with Buxton Mountain Rescue Team and knew they were a great cause, so I wanted to do more to support them, as it was a cause I felt passionate about. It eventually developed into a live charity stream, broadcast on social media. As part of it, I got to film several short films to be shown on the programme, including the story of a climber, Oli, they had rescued from a really bad fall. Spending all of this time with the team and the people they rescue enforced the fact they have a genuinely positive impact on people's lives.
Unfortunately, due to the coronavirus pandemic, we had to postpone the broadcast by almost a year. I'm no longer a student, but I still wanted to finish this project and show the world all the excellent work the team do. Sound Credit TV was kind enough to let me use their broadcast kit, making all of this possible."
Luke Leutner
After months of planning and hard work we were only a few weeks away from the broadcast date when Covid-19 put us all on lockdown. We were worried that we had missed this opportunity but throughout the last year the team has been busy producing educational content for our emerging YouTube channel and been at the forefront of creating dynamic, engaging covid-safe team training. We also kept in touch with Luke with a hope to still make the show.
"We are delighted to be working with Luke and his team. We very much hope that BMRT live will give all the viewers an insight into the work our volunteers do. I hope you find the event interesting and informative. We look forward to hearing from you during the event."
Neil Carruthers – Team Leader, Buxton Mountain Rescue Team
Featuring live interviews, rope work, vehicles, first aid and kit. We are 'On Air' at 19:00 on Sunday 25th April 2021, and hope to see you there!