What would mountain rescue do?
Winter precautions and preparations are second nature for mountain rescue volunteers, whether for an MR incident or when they're out in the hills walking, cycling or climbing themselves. Tips and tricks to keep warm, safe and ready for anything are shared across teams, formally through training and much more informally when out and about.
We've been gathering some of these ideas together for social media posts and they're proving popular so why not develop some of them a bit further, see what sort of comments and feedback they've generated and share them in a blog?
---
---
Warm drinks for when it's cold
It's simple always to take a flask of hot drink out with you but did you realise that two small flasks will keep drink warmer than one big one? That second flask of liquid stays full, stays closed and keeps much warmer than if it was just the second half of a bigger flask. It's not exposed to the cold air when you're pouring and there's no cold air in the flask once it's depleted.
And what do you put in those flasks? If you know when you're going to be drinking the contents, tea and coffee are probably fine. If you've no idea when you'll get a chance to have a drink — as is often the case for mountain rescue volunteers — then squash is a good idea. It's great when hot but it's not too bad when it's cooled either. Certainly better than stewed cold tea.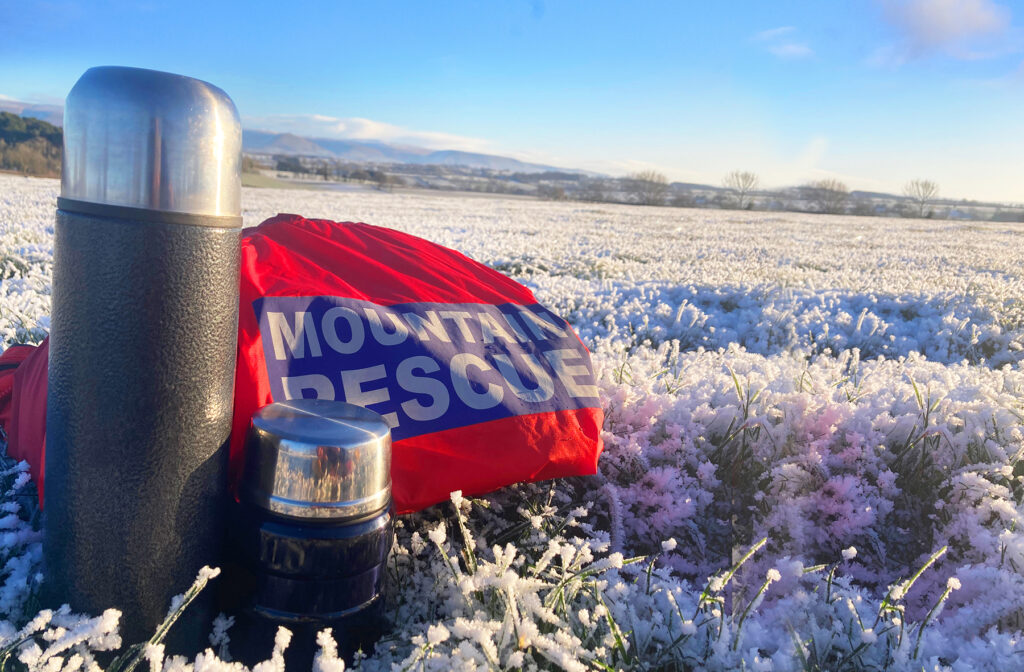 Shelter in the outdoors but out of the elements
Getting casualties out of the wind and under cover can be vital in winter weather. Most rescue volunteers carry a storm shelter or bothy bag so that they can create shelter wherever they find a casualty.
Typical shelters are lightweight and pack down small into a stuff sack so they're no hassle to carry. Different sizes can accommodate different numbers of people but one that shelters three or four is ideal — each person lifting it up and over and then sitting on the edge inside.
In an emergency, shelters can make all the difference by keeping out the cold, wind, rain or snow. They also come in handy in bad weather if you want a bit of shelter for your lunch stop!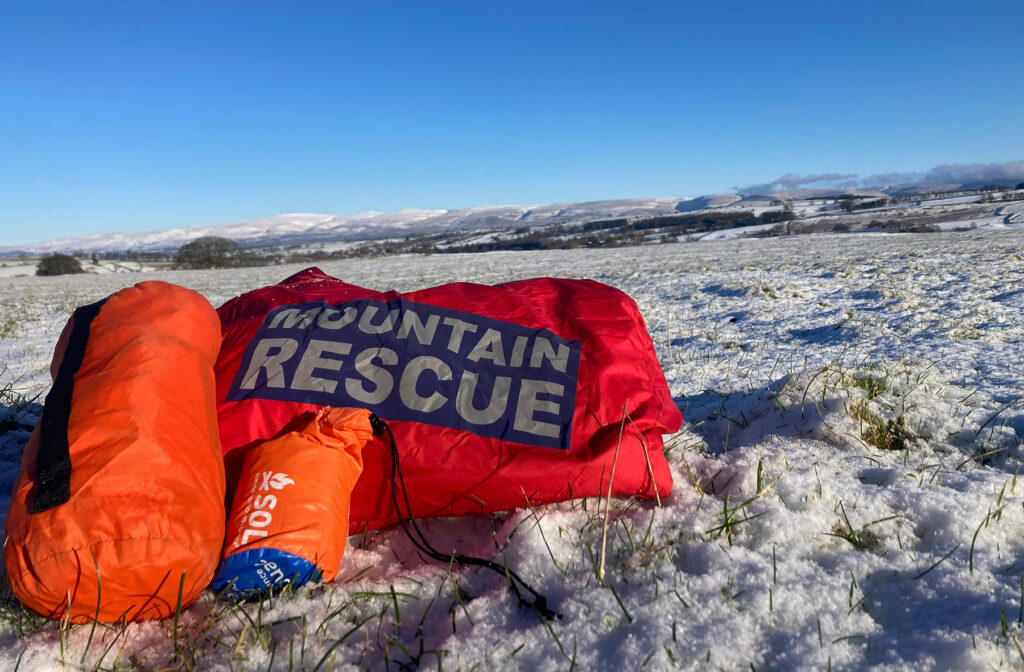 Traditional or modern or both?
This has proved to be the controversial topic on social media and it's worth explaining. Mountain rescuers tend to carry a conventional map and compass AS WELL AS any navigation apps or maps on their phones. MREW has been working with OS Maps on the app and we know rescue volunteers are as into the tech side of things as anyone else.
But that doesn't stop them carrying the traditional map and compass too — and practising using them regularly. For a start, some of the apps are great for finding your location but not so good for actual navigation. We'd far rather encourage people to be safe and know where they are and where they're going: that's when you can most enjoy your day.
It's good to have an accurate location when you need help but we'd rather avoid your needing our help in the first place!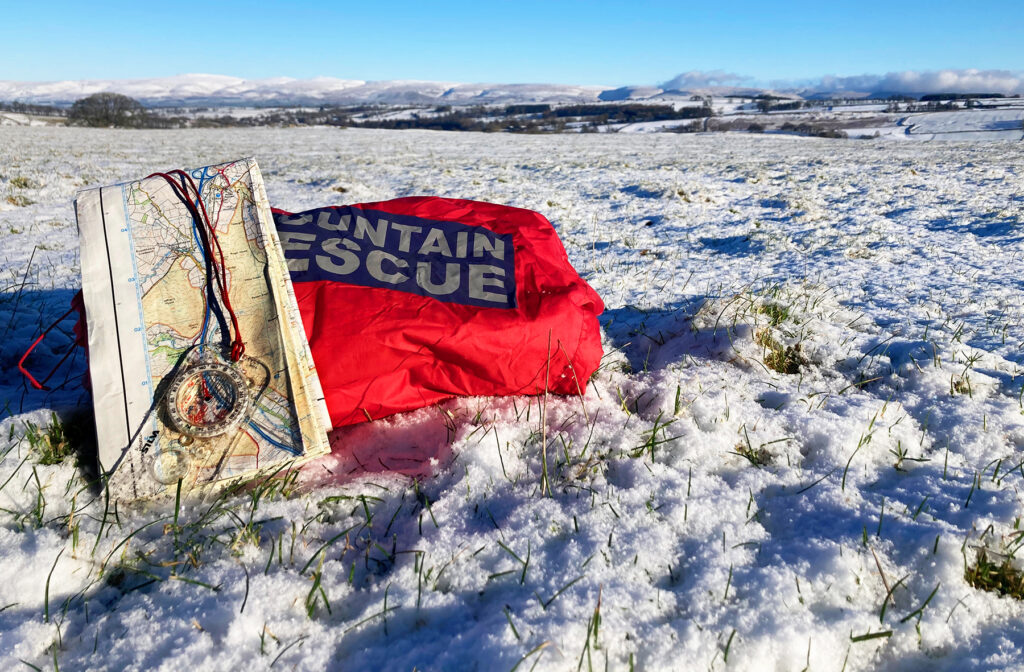 Also, it's always best to have a safety net or back up for navigation that doesn't rely on battery power. We've seen loads of benefits of people carrying mobile phones with them but we also know how quickly apps for navigation, phone torches and other options use up battery power — especially when it's cold and batteries struggle.
We'd recommend carrying the non-battery tools as well as keeping a power pack charged up and handy to boost your phone if you need it. And keep some juice for what only a mobile phone can do: communicate in an emergency.
Getting to the start
Probably just as risky as being out on the hills in winter weather (if not more so) is being out on the roads. Mountain rescue vehicles are usually 4-wheel drive but, even then, teams often invest in winter tyres and have chains or 'socks' available to give more traction on snow and ice.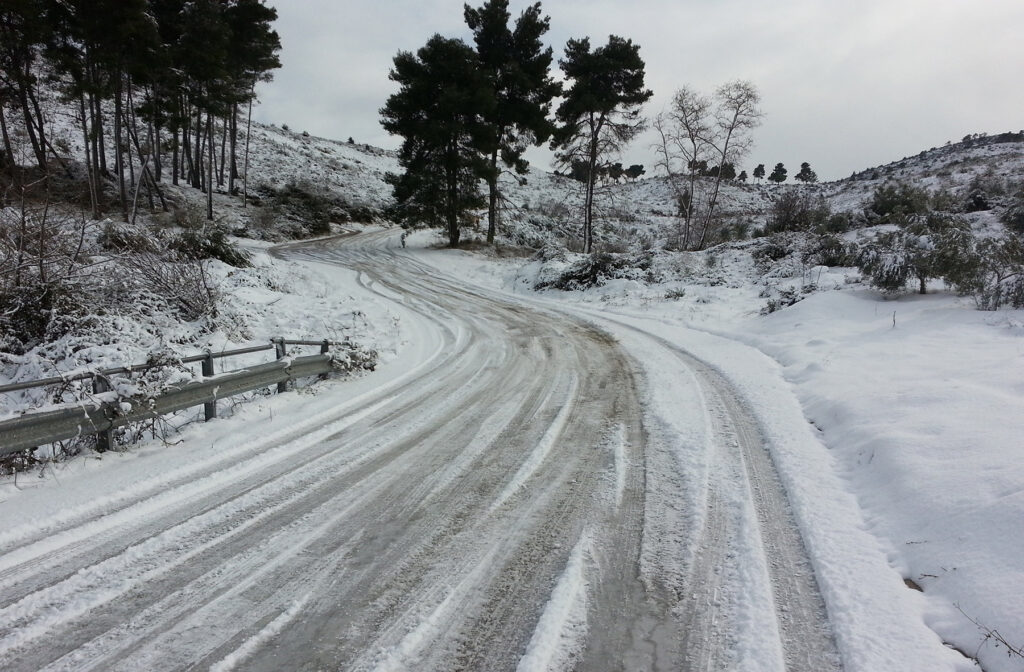 If you want to be out and about in remote areas in winter conditions, it's worth investing in these too. Winter tyres are a familiar (and regular) swap for winter on the continent. If you have snow chains or socks too, practise fitting them in safe conditions and before you really need them. So you don't have that challenge for the first time in a blizzard!
These poles were made for walking… and more
And finally, for now, if you've got walking poles, carry them with you and don't leave them behind. As well as giving you some security on uneven ground, they're a huge help on stream crossings and help with bog trots too.
Most mountain rescue volunteers will have poles, either in hand or attached to the outside of their rucksacks. Modern versions are incredibly light but still strong.
Look closely and you might also spot gaffer tape (strong adhesive tape made with fabric) wrapped around the poles of many rescue volunteers. It's not there for decoration but because it could be invaluable in mending a rucksack rip or a boot split. Or simply fixing something to something else while outdoors.
Do you have an outdoor hack that we could share with others? If so, please contact us here.
For more about how to stay safe in the mountains, check out our Stay Safe advice. Or download our leaflet.