Sunday 30 October is Mountain Rescue Awareness Day as well as being the first full day after the UK clocks go back. As the days shorten and the evenings draw in, it gets darker earlier in the afternoons and it's a good time to think about safety for your day in the mountains during the colder months.
---
Sally Seed outlines the key safety messages and questions from the #BeAdventureSmart campaign, but you can find out more here and there's even a special section on deliberate night time walking.
If you're heading off for a day walk, there are some things that could help you to keep safe and avoid getting benighted or stuck in the cold. It's not just about being safe – a few small measures can help to make your day in the hills a great one.
Do I know what the weather will be like?
Knowing what to expect from the weather is a prerequisite to any day outdoors, especially in the hills but especially in winter. Normal forecasts give a context but a more detailed mountain weather forecast is essential as it will give you much more idea of the changing temperatures as you climb, cloud levels, the impact of any wind and the likelihood of more snow fall.
MWIS and the Mountain Weather Information Service are often displayed by tourist information centres and outdoor shops and the Met Office does a mountain forecast too.
If there's been significant snow fall on the fells, remember that wind can create additional hazards with cornices, shelves of overhanging snow blown out over thin air, and slab that could increase the risk of avalanches. These are all hazards that would be covered in good training for winter walking and then you can build up your personal experience over years of great winter walking seasons.
Walking in winter conditions can be an exhilarating experience but snow and ice, as well as the reduced daylight hours, can turn a familiar walk into an epic adventure. Unfortunately, as the incident reports from mountain rescue teams reveal, not all those adventures have happy endings.
Many rescues happen when people are coming down off the fell. Some mountain rescue teams call them the witching hours between 12 noon and about 5.00 pm as that's when, from experience, they expect most of their calls.
There are lots of reasons why more incidents happen on the way down – overestimating the length of daylight and descending in the dark, inappropriate footwear for the terrain or poor navigation meaning you lose your way – but there are some reasons that are unavoidable and true of anyone. You have usually achieved your goal so, on the way down, you're more relaxed and chatty and maybe you don't concentrate as hard looking where you're putting your feet. You could be tired and not quite as observant as you need to be or, for whatever reason, you descend a little too quickly for the terrain and lose your footing. Take the descent seriously and be aware of the risks.
If you're planning to walk at night:
Choose a route you have walked in daylight before heading off in the dark
Pick settled clear weather – there's no disgrace in being a fair weather night walker; check the forecast before you set off
Watch the skies – a full moon or a starry sky will enhance the experience and make it easier to navigate.
Go with company. It will be safer and a lot more fun. If you do go alone, let someone know your plan and expected time of return.
Be sensitive to the possibility of causing alarm to local residents when walking at night. Choose a route where you don't pass close to houses or farms.
---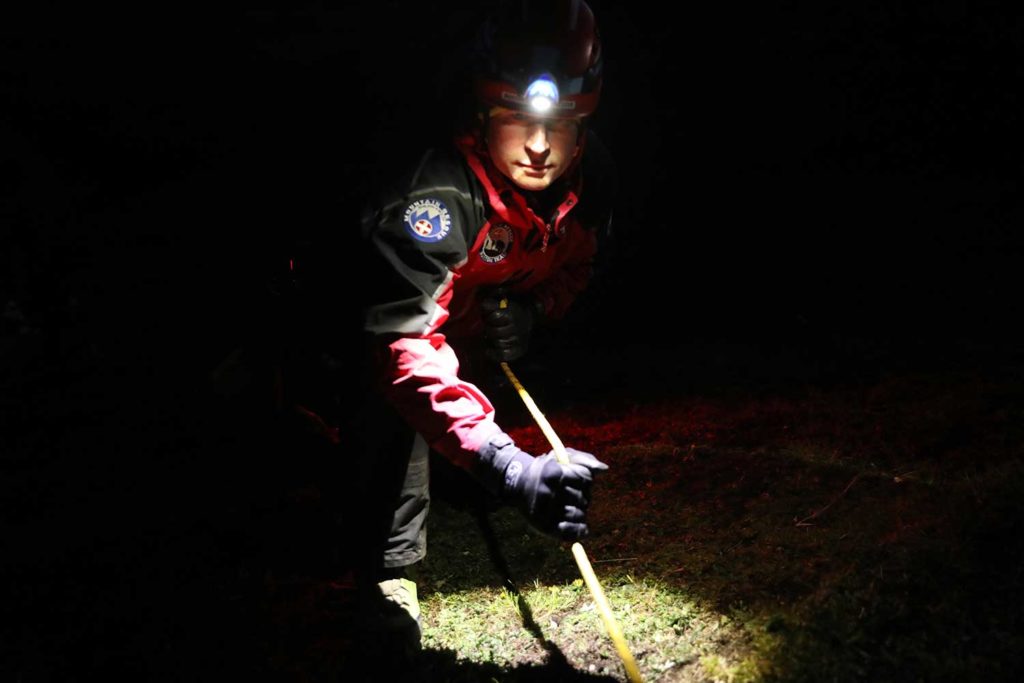 Do I have the right gear?
Having the correct equipment in winter is essential. It is also vital to know how to use it and to keep it handy. The best ice axe and crampons in the world are no good to anyone if they're carefully stashed at the bottom of your rucksack and have never been used on real snow and ice.
It's important to attach crampons and take out your ice axe well before you start to feel unsafe. They're only going to help if you've got them at the ready and one of the least safe things to do on any icy slope is to hop about trying to keep your balance while putting on a crampon, even if it is a vital piece of winter kit!
In terms of your clothing, it's not unusual for MR casualties to have the correct gear in their bags but to have left it there as they were 'already cold' or 'worried about it blowing away'.
Here are a couple of tips and tricks of the rescue trade, with thanks to Judy Whiteside, author of Call out mountain rescue? This pocket guide to safety on the hills is available to buy from our online shop and when you buy it from us, you're helping support mountain rescue at the same time.
Gloves and socks – Remember that these are interchangeable in an emergency. If you lose a glove in the wind or your hands are getting really cold and you have a spare pair of dry socks, put them on your hands to keep them warm. And, if you have to remove a glove in bad weather, make sure it's secure by clipping it to a zipper or stuffing it down the front of your jacket if you don't trust your pockets.
Extra layers – A windy hillside is never ideal for adding an extra layer under your jacket but, if you're feeling the cold, it's best to get it done and there are ways of doing it safely. Unzip the jacket from the neck to within a few inches of the bottom. Take your arms out and tie the sleeves around your waist. Now put that extra fleece or thermal layer on, untie the jacket sleeves, replace your arms and zip your jacket back up. You'll be warmer and your jacket won't be disappearing over the horizon.
If you're planning to walk at night:
You need all the same equipment as you would for the daytime, but some items are especially important
Two torches and spare batteries; LED torches are the most reliable and head torches will leave your hands free. Adjustable beams will be helpful
It can be close to freezing during the early morning hours. Make sure you carry plenty of layers, spare dry socks, gloves and a fleece
Map and compass (and know how to use them at night)
Sleeping bag and bivi shelter – just in case!
Charged mobile and power bank for what only a phone can do – in case you need to call for help in an emergency.
---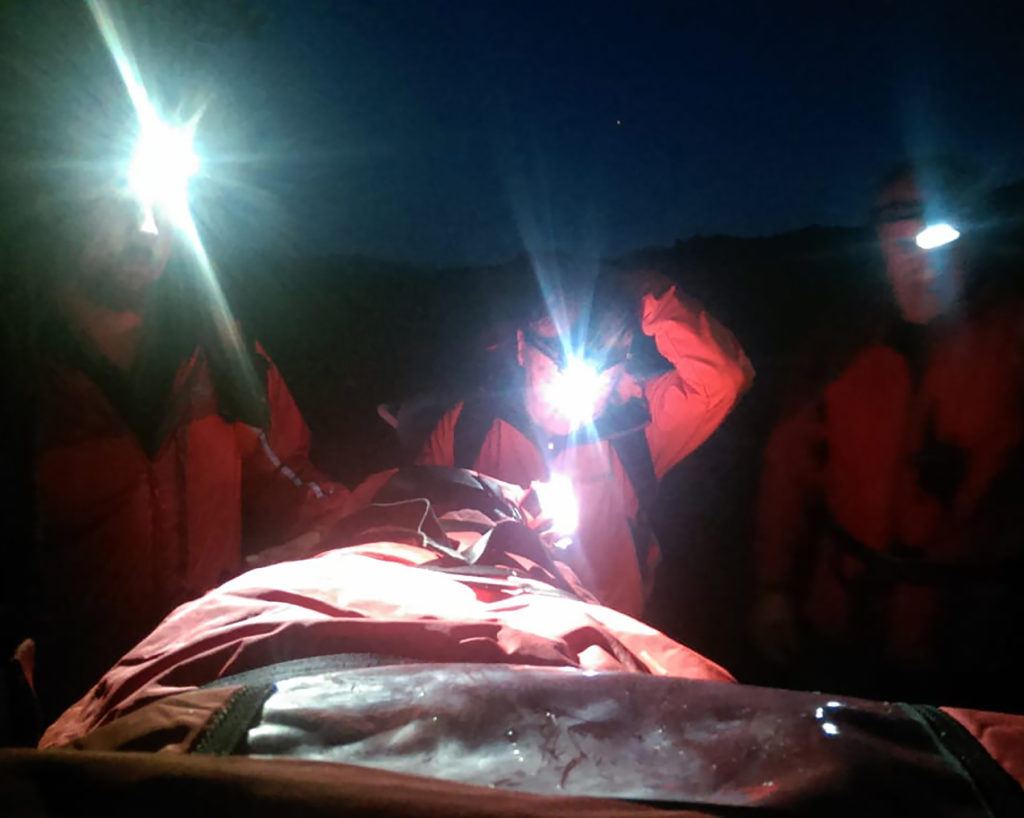 Am I confident I have the knowledge and skills for the day?
Even if you have crampons and ice axe at the ready, you need to know a few key things about how to walk safely in crampons and how to carry your ice axe so that it's ready to use immediately if you need it. And the only way to prepare yourself for the real thing is to learn from an expert on a relatively safe slope in winter conditions. That way, you know how it feels, gain a bit of confidence and understand the limits of your equipment.
If you're planning to walk at night:
Develop your skills
Navigating at night can be a formidable challenge, so do your homework before you set off. Go with a guide or go on a night navigation course if you are unsure.
It is harder to see uneven ground when it's dark. Walk with your eyes, noting the ground 15 feet ahead to see upcoming hazards.
Torchlight can be dazzling in mist, rain or snowfall and in certain lights, ground detail can be lost making a stumble more likely. Keep your torch beam low or try holding your head torch in your hand.
---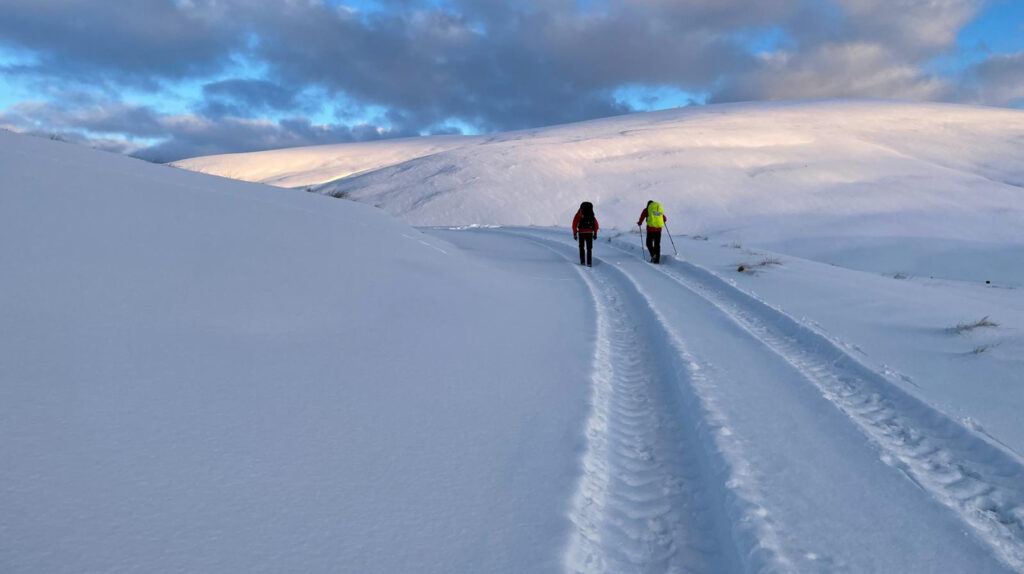 Most volunteers in mountain rescue love being out in winter conditions and regular days of winter training (with added avalanche awareness) are an important commitment for team members. There are reasons for this: when casualties get into trouble on icy slopes, with darkness falling and stormy winter weather coming in, MR volunteers need to be at their most effective if lives are to be saved.
If you, as a winter walker, can commit just a fraction of that time to plan your trip, pack the right equipment and practice some essential winter skills, you're more likely to stay safe and to enjoy great winter days out!
---
PS: You'll find a selection of torches, head torches, bivi blankets, whistles and compasses in our shop, all chosen to help keep you safe, whatever the time of year. And we'll be stocking a few more in time for filling those Christmas stockings so keep looking.