Crimewatch in Scarborough
The BBC programme makers caught up with Scarborough and Ryedale team members for a rescue reconstruction
---
Teams are often invited to take part in programmes such as 'Countryfile' or 'The One Show'. It's a great opportunity to showcase mountain rescue but can be a logistical challenge given that team members already volunteer so much of their time and also have to work for a living – as Ian Hugill of Scarborough and Ryedale MRT recalls.
It was early in May when Simon, one of the directors on the BBC Crimewatch Roadshow, first made contact…
'We're considering the potential of filming an item with Scarborough and Ryedale MRT for our new series. We're particularly interested in water rescues since we've covered caving and climbing rescues in previous programmes. Can we chat about possibilities?'
Our quick chat went something like this:
20% of our incidents involve working in or around water: good
York floods: too hard to set up
North Sea tidal surges: too hard to set up
Slips trips and falls near water: not dramatic enough
Searches in and around water: not dramatic enough and often a sad outcome
Injuries at the base of one of the waterfalls (fosses) in our area: interesting…
We agreed to take the last scenario further.
A week later, Simon called back to set up a 'water rescue' from below a waterfall, involving presenter Michelle Ackerley – to be filmed in one day in the next four weeks while the production crew were in the north east.
Cue a frantic period of 'cat-herding'…
The crew were happy to film at weekend but their best slot was the late-May bank holiday – one of our busiest periods, with a number of team members away.
The first weekend in June was a possibility but would involve considerable travel for the BBC. We settled on 2 June which was not without difficulty as we were already committed to first aid cover for a mountain bike event in Dalby Forest and a street collection in Scarborough – not to mention the need to provide operational cover for our patch.
Cleveland MRT kindly offered cover which meant that fourteen of our more experienced team members were available to stage a water rescue followed by a technical rope recovery from the valley to the road.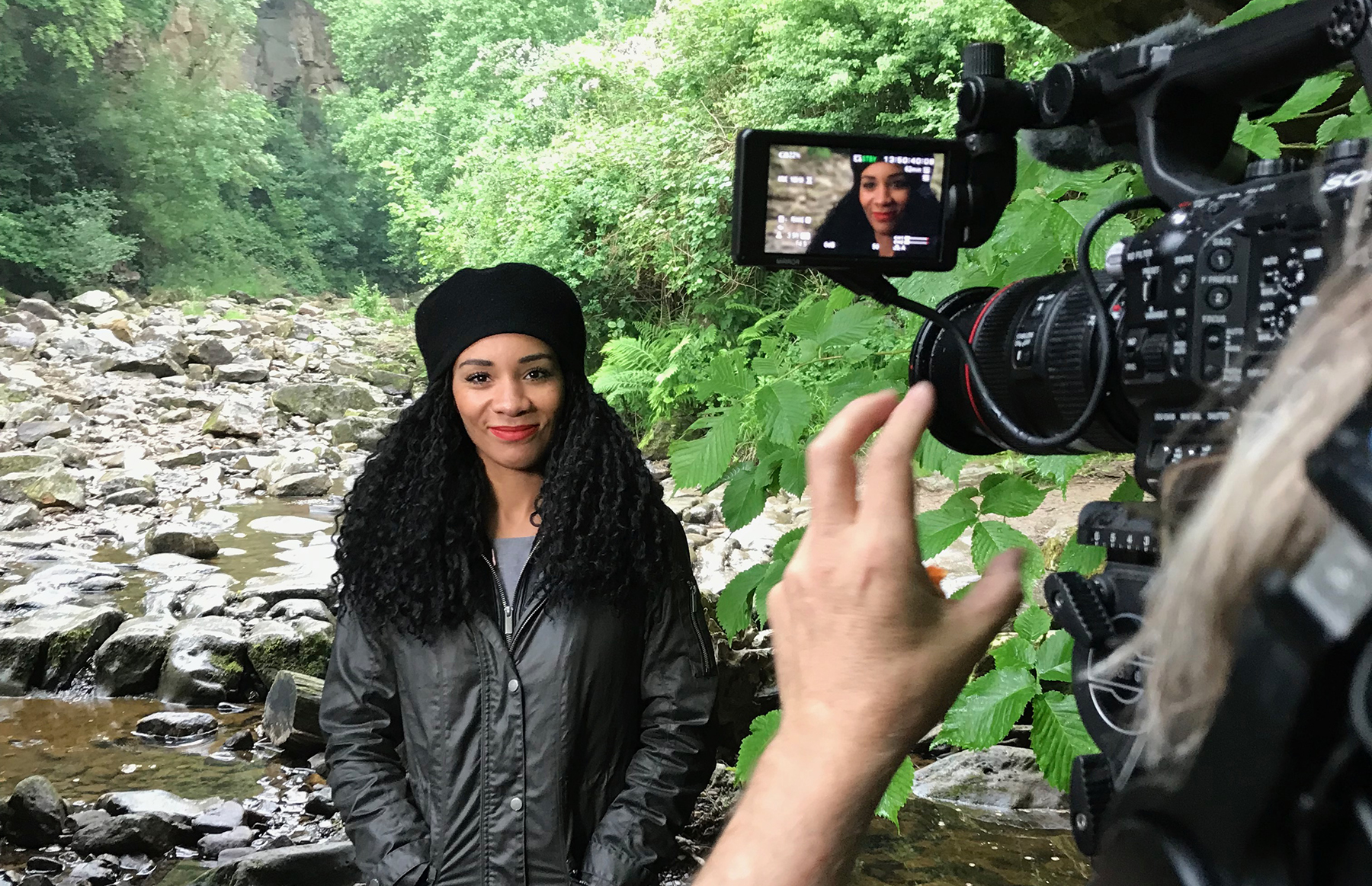 There were a couple of suitable venues but the landowners for the logistically easiest location were camera shy. Our second option involved a considerable carry in and out, and the access road was closed due to a landslip, but we believed we could work around the closure so settled on Thomason Foss above Beck Hole, and are grateful to the Birch Hall public house for allowing us to use their 'back garden'.
There followed a period of risk assessment and BBC best practice to ensure the full involvement of Michelle with as much drama as possible, at minimal risk.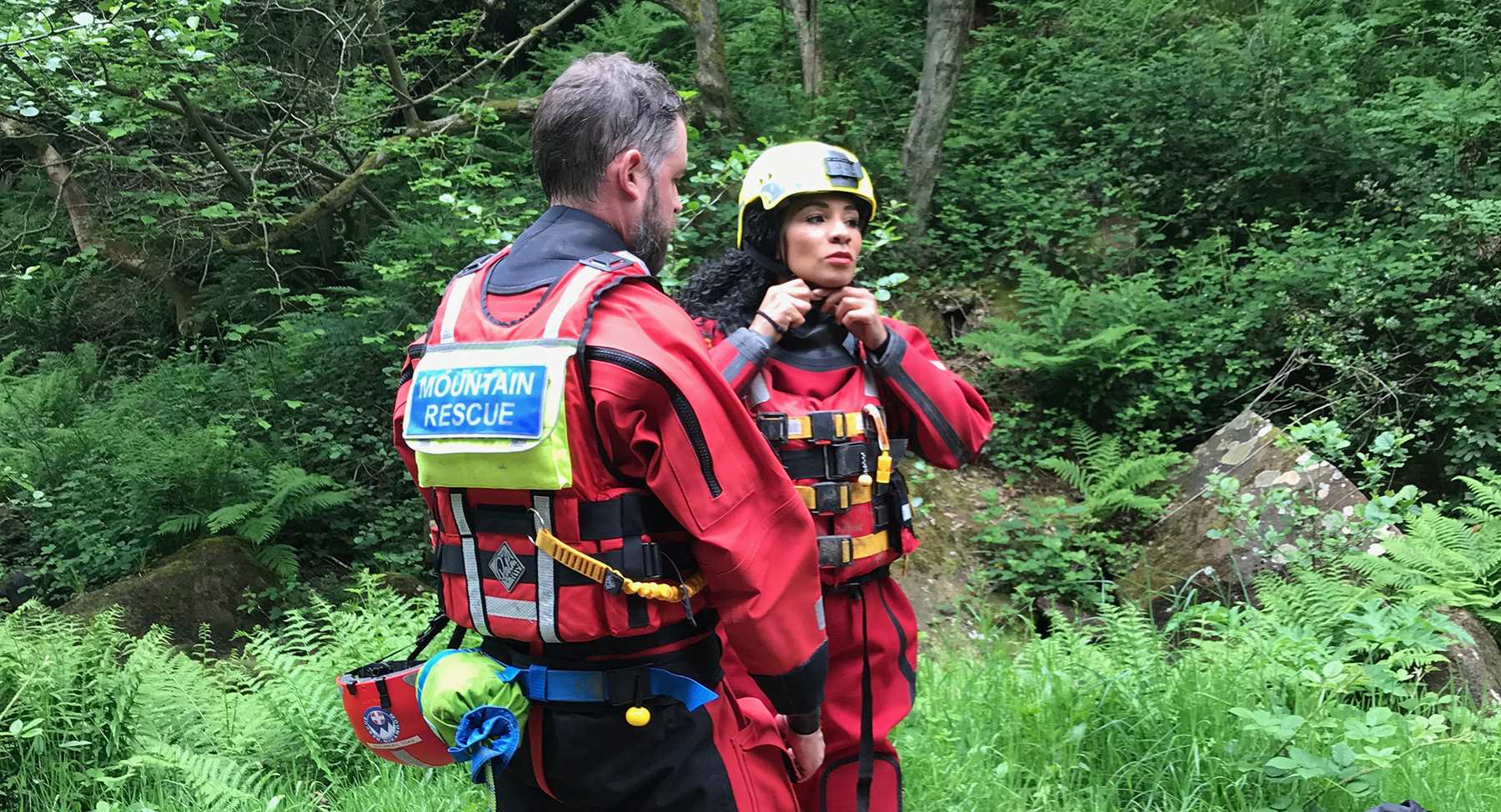 Simon and I worked on a script, over multiple phone calls, settling on an interview with Michelle followed by the re-enactment of a previous incident where a girl suffered a potential spinal injury after 'tombstoning' from the lip of the Foss into the plunge pool below.
Midges, beer and thunderstorms: mountain rescue in a nutshell
The team assembled one evening at the end of May to run through the scenario, provide fresh blood for the resident North Yorkshire midges and test the BeckWatter beer in the Birch Hall.
It was looking good for the Saturday but the challenges continued almost to dawn on the day, when local thunderstorms and flash flooding were predicted for early afternoon. A quick rework of the script – action first, interview second – seemed pragmatic.
At 10:00 am on 2 June, we were joined by Simon and Amy (one of his researchers) from South Wales, Michelle from Cheshire and team members from the four corners of our area. Following a safety briefing, it was time to kit Michelle out in a dry suit, brief her on her 'injuries' then position her at the base of the Foss.
Team member Paul Thompson acted as water incident manager with Steve Glasper as advanced skills casualty carer. Other team members executed a swimming rescue and recovery to a flat slab at the side of the beck, with extraction from the water by means of a MIBS stretcher and spinal insert. The 'casualty' was then medically assessed on the riverbank before she could be stretchered out.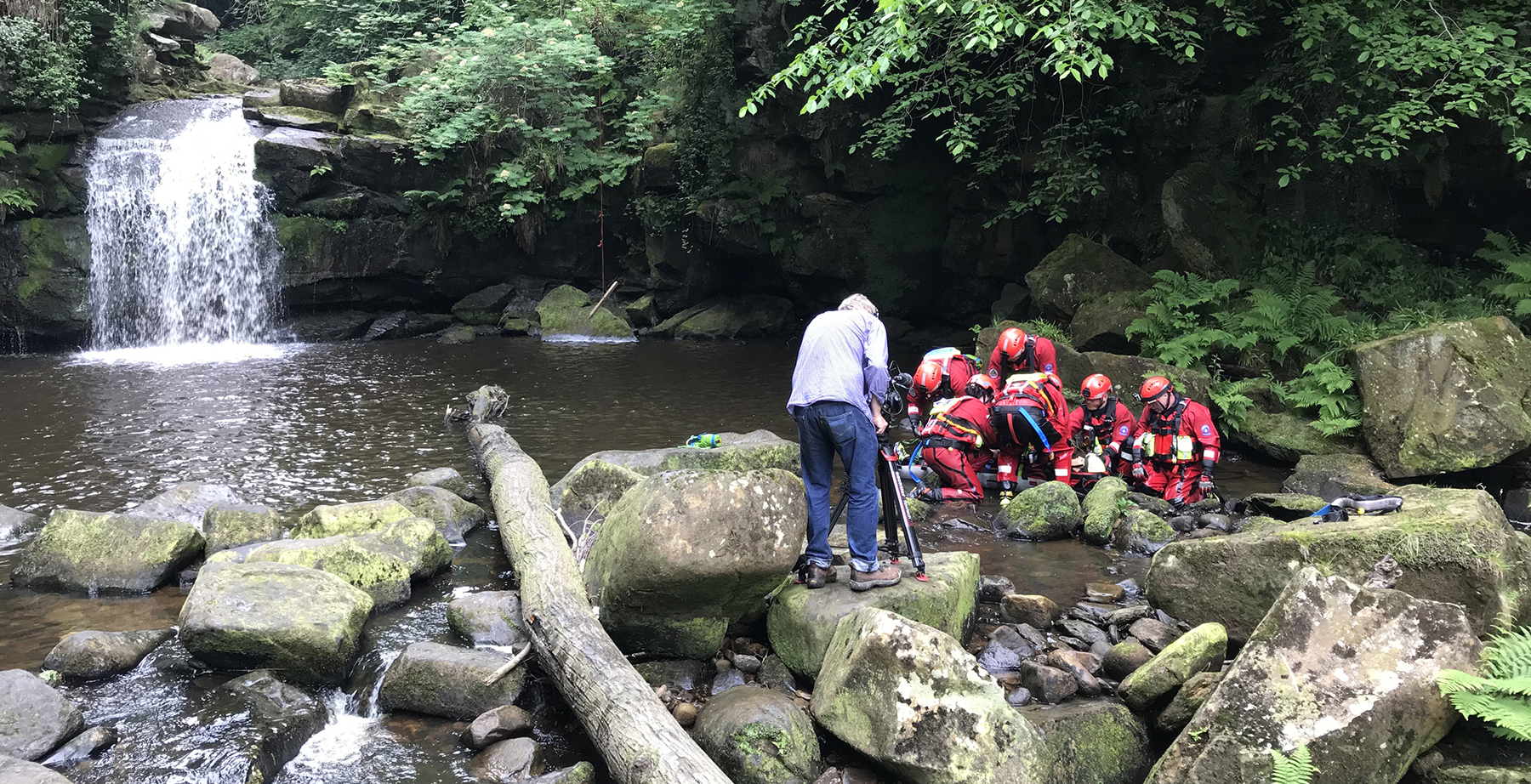 As this carry out was initially in the cold zone in the boulder field below the falls, we pulled in other team members to assist with the carry until the swiftwater team had completed the extraction. Tony Heap took over as crag master with Jon Bateman and Russ Hayes controlling the dead end and live end of the system respectively. For continuity of care, Steve swapped his PFD for a harness.
After much hauling of ropes – using almost 1km of rope and a significant proportion of our technical metalwork and slings – Steve and Michelle were clear of the valley and Tony got to enjoy his piece to camera running through the names and purpose of each rope in the system.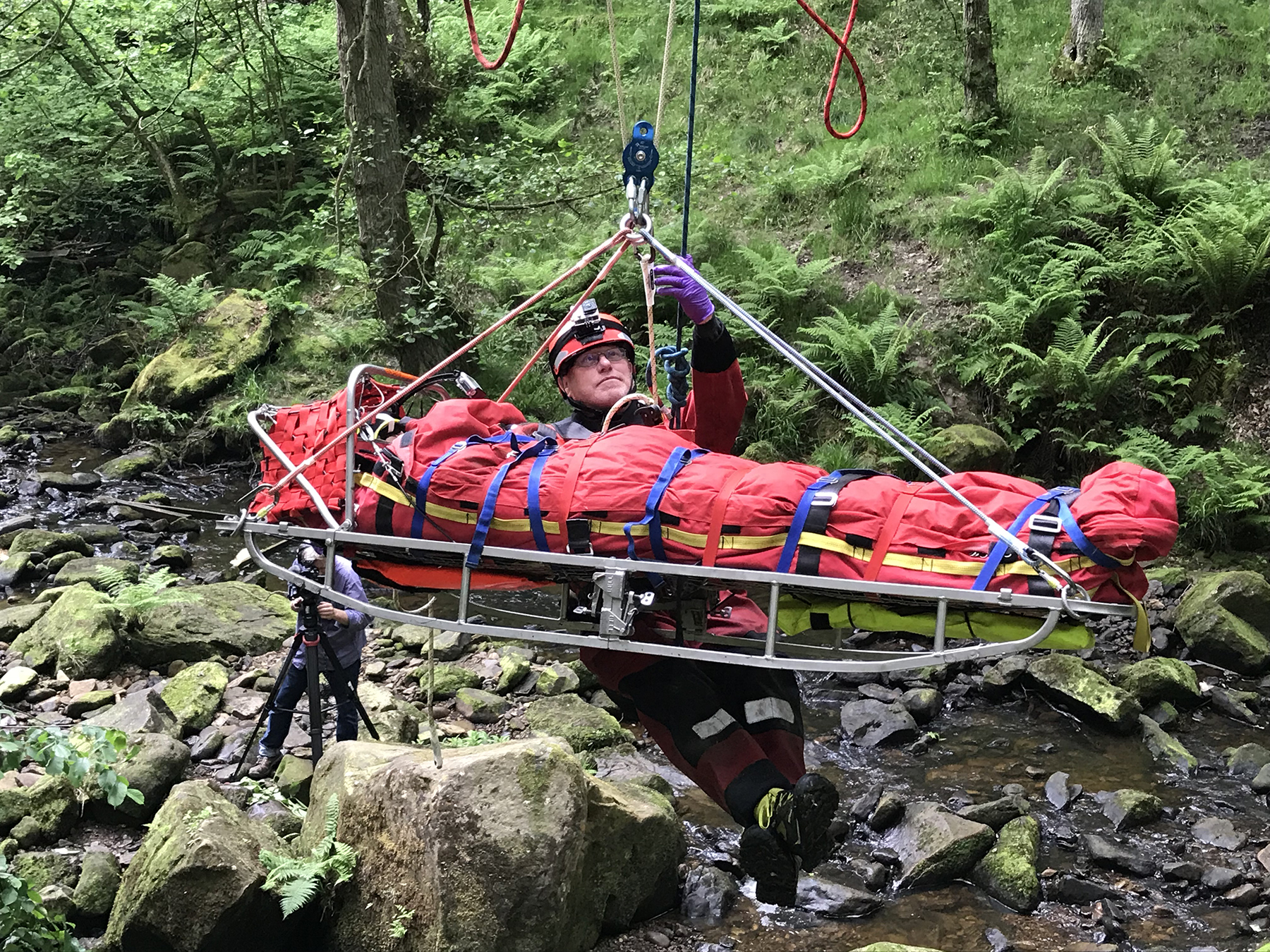 Throughout, Simon and Amy rushed around for 'just the right' shot while team members not directly involved with the action provided safety cover and ensured the cameras, GoPro, radio mics, spare batteries, tripods and kitbags were in the right place at the right time. Or at least close to it.
At the end of filming, the rain came but not the forecast thunderstorm, just that steady vertical stuff that soaks you through. The result was a bizarre interview with Michelle and myself stood in the stream and the camera set up out of the rain under the bridge in the village.
Everyone appeared happy with a long and successful day and we went our separate ways which, for us, meant emptying our vehicle into the drying room at base.
While Beck Hole and Goathland ('Heartbeat' country) are two of our 'hotspots', it had been a while since we'd been to Thomason Foss in anger but clearly our activities had angered the 'slippery rocks gods' and we were back the following day, after hastily repacking the Land Rover, to a lady with a lower leg injury. Thankfully, it was a little downstream of the Foss, a simple paddle over the stream and a sweaty stretcher carry up to a waiting ambulance.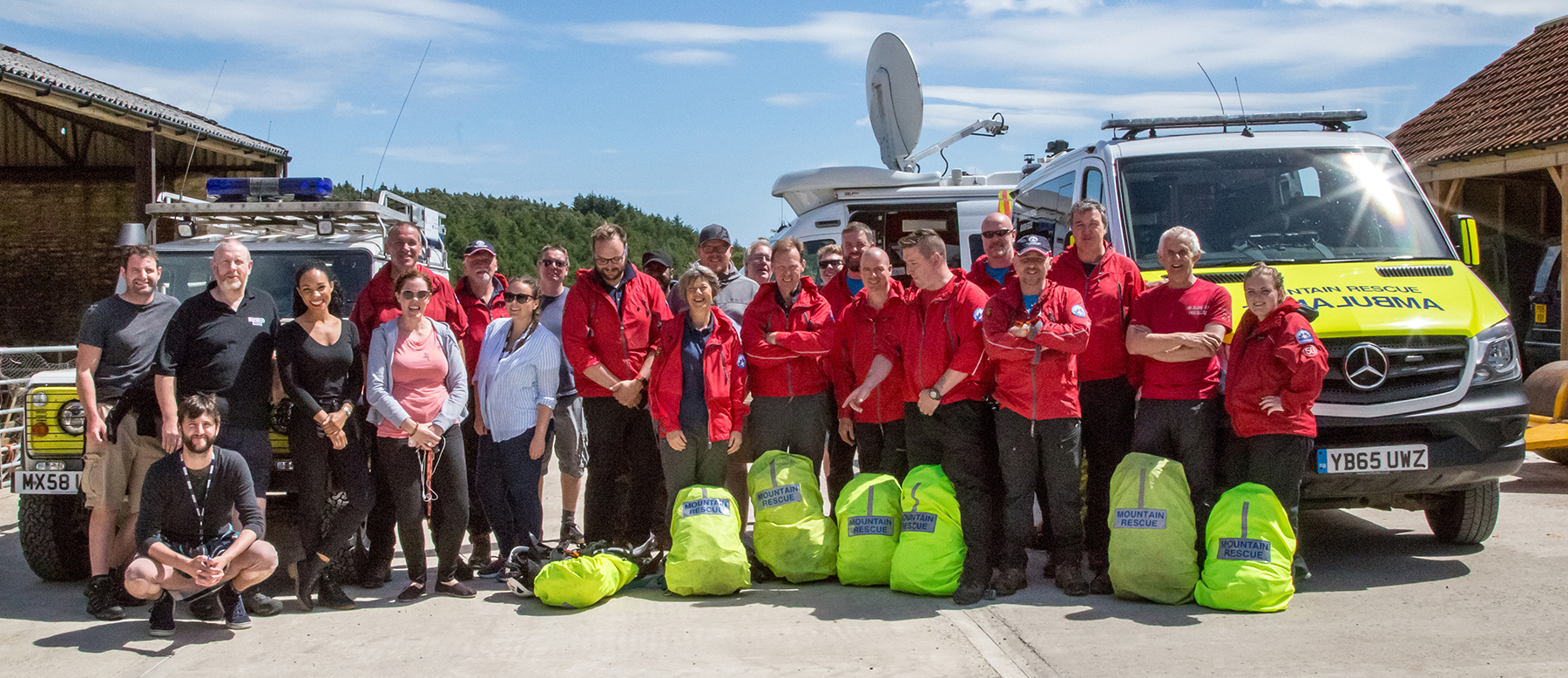 …and then back to herding cats…
Initially, Simon suggested we might join them on the day of broadcast to demonstrate the benefits of group shelters but it transpired the BBC wanted to turn over the whole live element of the show to us. So it was back to herding cats, arranging a suitable location, five or six team members, two additional short activities to camera and some input from previous casualties. All within two weeks. On a working morning.
We settled on the area around the Hole of Hocum, high on the moors. Another 'hotspot', this would also provide sweeping views over the moor – ideal to show off both the team and the beautiful, remote area we train and operate in.
And it was all going so well until OFCOM threw a spanner in the works, refusing to allow the BBC Outside Broadcast satellite system to transmit in the vicinity of RAF Fylingdales' Ballistic Missile Early Warning Station – and they weren't answering the phone!
Thankfully, one of our team members farms an area of land on the edge of the moors and Dalby Forest, and he was more than happy to be offered up as an alternative.
So it was off to Givendale Head for a couple of hours looking for 'dramatic locations' which were safe for Michelle and the production team, away from civilisation but close to the satellite uplink van, with parking for a number of police cars and the police tractor from which Michelle would make her dramatic entrance to the show.
Tuesday 19 June arrived and the hour flew. Our fourteen minutes of airtime cut between live interviews about vacuum mattresses, group shelters, ropework and the software we can use to locate casualties, alongside the footage from Thomason Foss and appeals for information to help our police forces solve various crimes.
All part of the unwritten, still voluntary, 'job spec' for a team PR officer but, without the dedication, professionalism and good humour of team members, none of this would have been possible.
Postscript: This story was first published in our quarterly Mountain Rescue Magazine. To subscribe, join Basecamp.