Flying sheep, horsey guides…
… mountain cats and crocodiles. Must be August.
---
August dawns and right on cue the rain is back, the heating's on, sheep are launching themselves at unsuspecting walkers and navigation by horse is headline news.
Whether the horse in question was entirely cognisant of his (or indeed her) part in the story is unclear. Unlike the black and white cat, which regularly – and presumably knowingly – guides lost hikers down the mountains in the Swiss resort of Gimmelwald. Or did, a couple of years ago. That too was an August story.
Finding the path back to his hostel closed, the hiker who published this particular tale online described how the moggy led him downhill, pausing from time to time to 'look at him to follow'. Only when the path to the village was in sight did his 'guide' seem to lose interest and the pair parted ways.
Last Sunday morning, in a not dissimilar story, news broke that twelve Cleveland team members had set out to search Guisborough woods for a man who called police in the early hours with very little battery life, having found himself 'somewhat worse for wear overnight' and now lost with an 'injured ankle' and no shirt. Perhaps due to his lack of battery power, an attempt to pinpoint his position using SARLOC failed to work.
He made it home under his own steam – if reports are to be believed – having seen a horse in a field and followed it to the road, from where he was able to find his own way. Cue a nosebagful of creative hashtags and a great deal of horsey banter.
Still it was a valuable opportunity to remind people that mountain rescue team members are volunteers (who enjoy their Sunday mornings as much as anyone), and that horses are not a recommended navigation aide. Map, compass, phone with a fully charged battery – all so much more reliable.
Flying sheep and tigers. And crocodiles. Let's not forget the crocodiles.
Not all the animals that feature in mountain rescue incidents are quite so helpful. Or hashtag worthy. And sometimes they cause serious harm to humans, like that 'flying' sheep, earlier in August. This wasn't strictly one of ours, but a tale from the Mourne Mountain Rescue Team, who tended to a walker hit by a sheep jumping from an adjacent crag causing potential head, neck, back, abdominal and leg injuries. Thankfully, the casualty was later released from hospital with concussion and soft tissue injuries.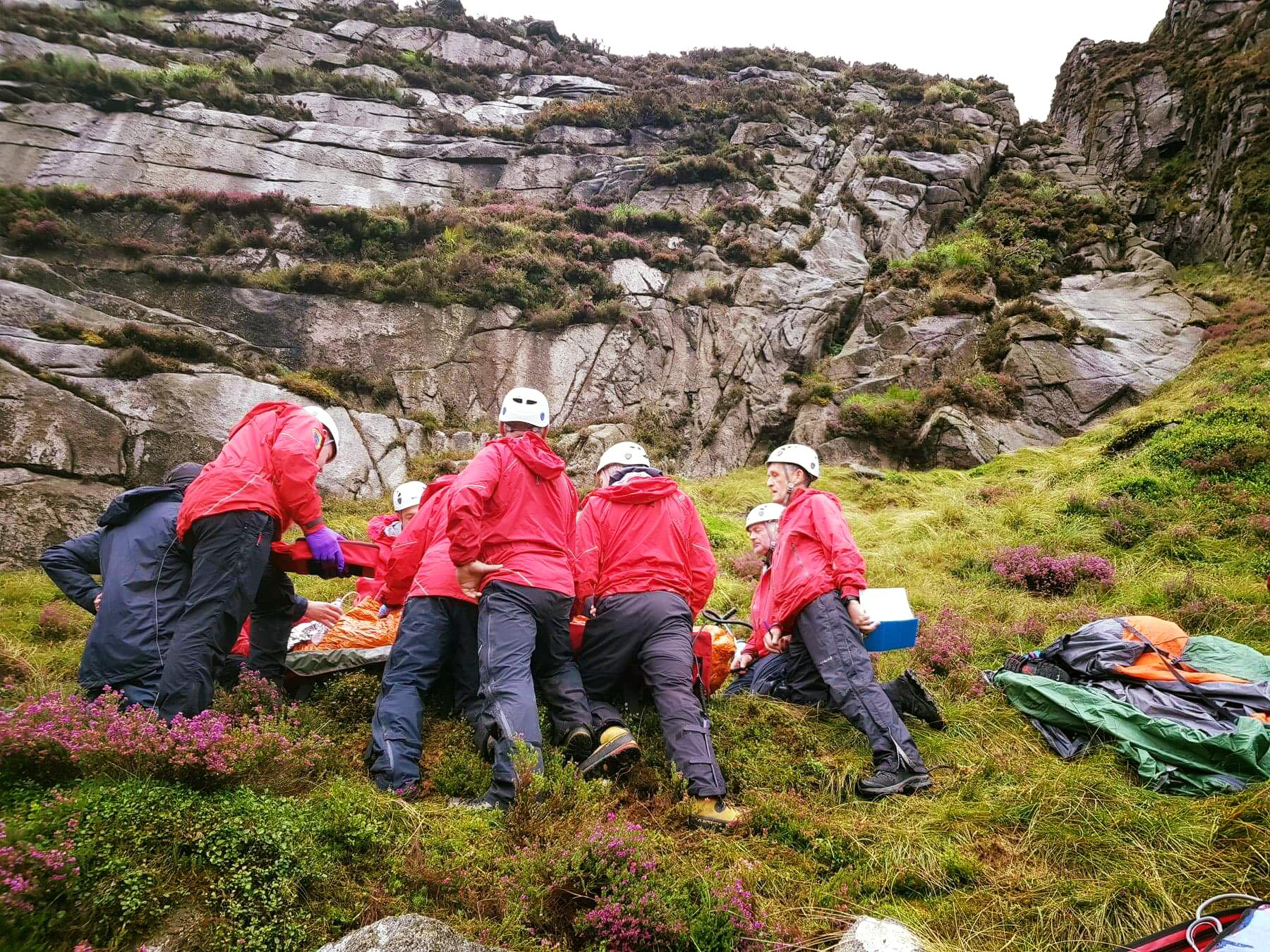 It's not unusual for walkers to be hurt by livestock – horses, cows and sheep in particular – but there's a wider message there too, about we humans having respect for these beasts of the field, especially if there are young animals involved. Earlier in the year, Mourne team members dealt with an incident with a horse which didn't end well for the casualty.
'I think in both instances, the walkers may have approached the animals,' says Martin McMullan, Mourne MRT training officer. 'In the most recent, the sheep jumped from a ledge when approached and collided with the walker. In the incident earlier in the year, the walkers' approach may have triggered a defensive reaction from the horse.
'The walker was attacked, as was her friend and another passerby who came to help. The first casualty suffered multiple skull fractures and considerable brain injury.'
The sheep in our story walked away uninjured – as they often do. Sheep rescues feature heavily in every team's incident list – marooned on ledges, lost down gullies or hemmed in by fast-flowing rivers – and many a cragfast sheep has soared effortlessly over the heads of rescuers heading her way, armed with ropes and harnesses.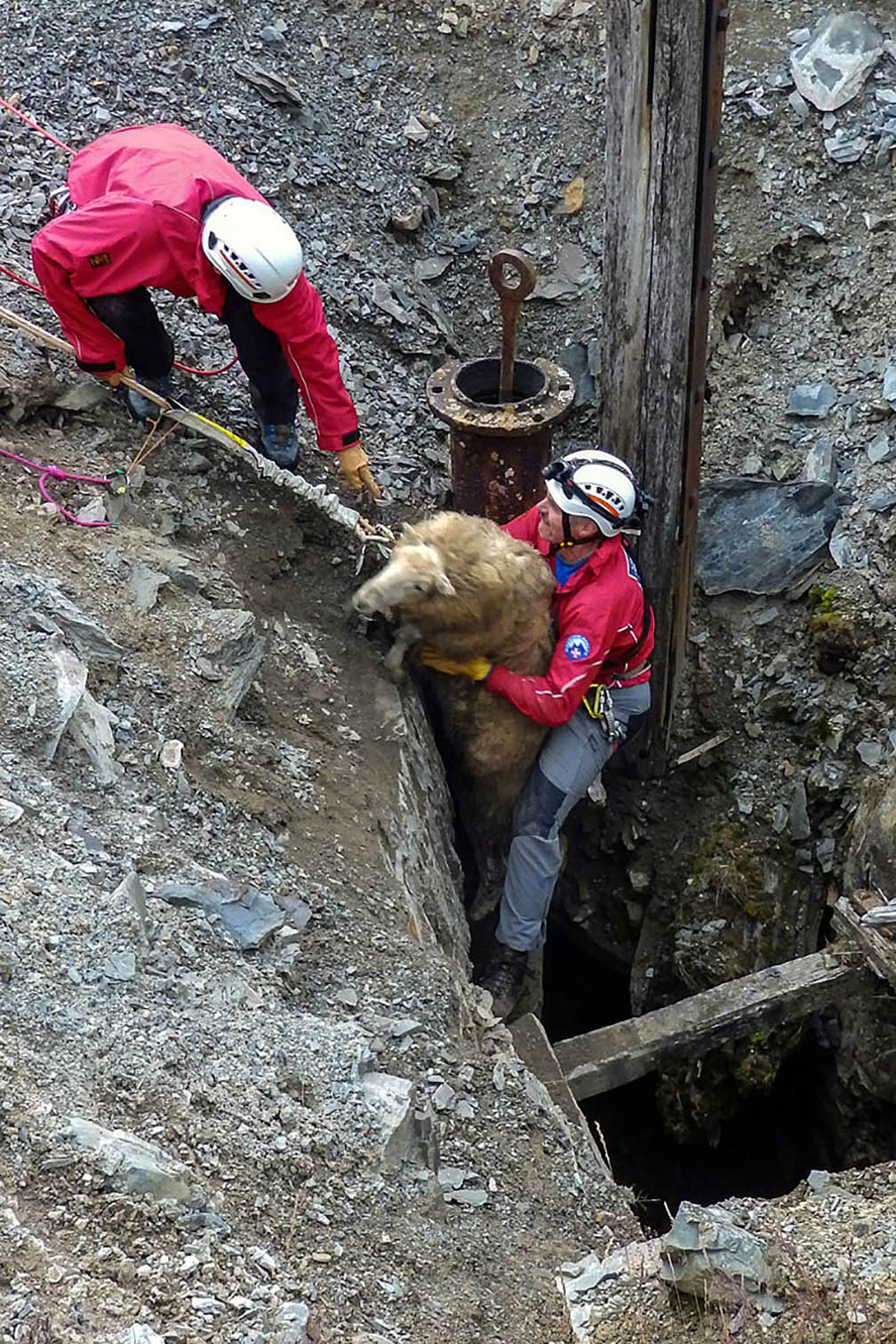 Teams are happy to help the farmers by way of thanks for letting team members train on their land. But the incident also raised the question, do teams actively train for this sort of rescue scenario? We train for any number of eventualities after all, some quite spectacular. Plane crashes, hot air balloons plummeting to earth and rising floodwaters regularly feature, but sheep-specific injuries and the unpredictability of animals? Maybe not.
But from the point of view of any trauma resulting from an impact injury, then yes. All part of the training.
It's not just farm animals we get entangled with, of course. And, sometimes, it's not even August.
It was April 2015, when an even bigger cat made mountain rescue news as the then Cockermouth team leader, Mike Park, 'fell foul of a tiger' in the mountains above Buttermere, sustaining a bloodied hand for his efforts. 'Tiger', it transpired, belonged to 'Never Mind the Buzzcocks' comedian Bill Bailey and he managed to evade capture for a couple of hours, leading rescuers a merry dance around Haystacks and across the fells with team members in hot pursuit.
The crocodile, you may remember, slipped ashore in Carlisle, during the 2015 floods and we have no reason to suppose the stories weren't true. We have the photo to prove it.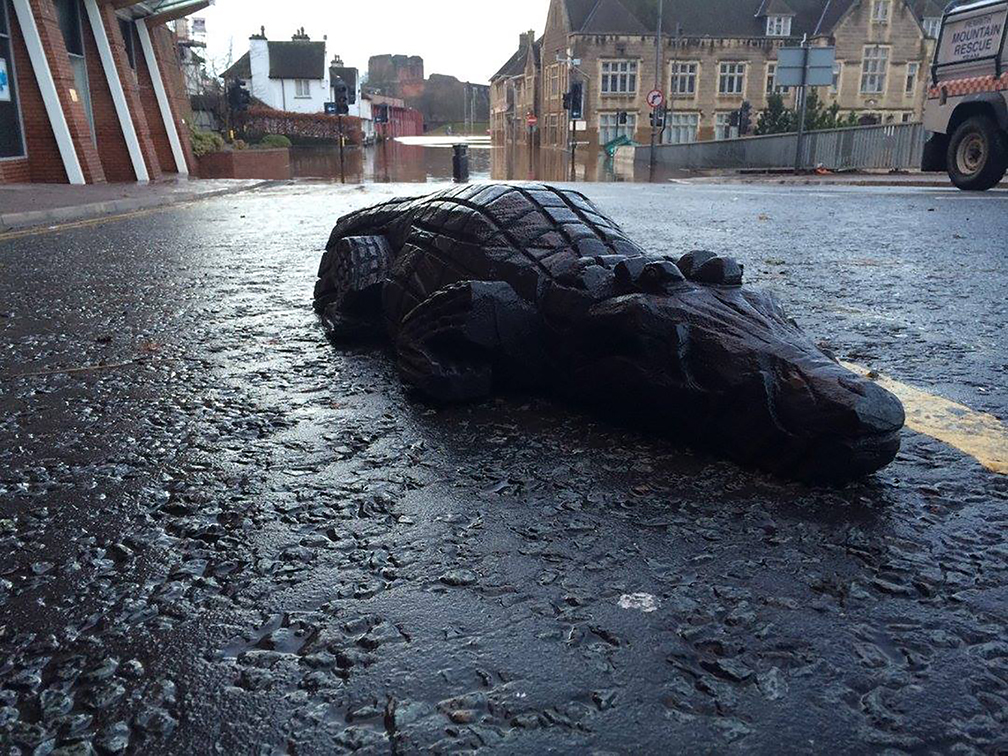 Animal magic
In fact, animals have featured in mountain rescue incidents from the start.
Upper Wharfedale Fell Rescue Association (UWFRA) – who celebrate seventy years 'in the business' this year – reckon they've dealt with '433 sheep, four horses, 16 cows, eight calves, 53 dogs, 170 lambs, two goats, two cats and even two parrots'.
In fact, it was the rescue of a lost lamb which perhaps led to the formation of the Grassington-based team, as detailed in the book about their first fifty years, 'Anytime. Anywhere'.
Walking near Kettlewell, one warm July afternoon in 1948, Len Huff and Ken Smallpage were enjoying the beauty and peace of the countryside when they heard the bleating of a lamb echoing from the depths of one of the many old lead mine shafts in the area. After a somewhat precarious descent of some 25 feet, 'the two men managed to bring the lamb to the surface and it trotted off bleating happily to find its mother, none the worse for its experience'.
One week later, the same two men rescued another lamb from another shaft. Both incidents were reported to the police and it seemed a precedent had been set. Early the following month, when the police needed volunteers to join the search for a missing walker, they were asked to take part. By the end of August 1948, the Upper Wharfedale team had taken shape, with these two men instrumental in its formation.
Tugging at the heart strings
Perhaps inevitably, not all animal rescues end on a happy note, despite the best efforts of rescuers.
Earlier this month, when a farmer called for help because one of his calves had fallen into Strans Gill, UWFRA took the call. With scaffolding boards creating a flat surface in the gorge bottom and flood sheeting up the side of the gorge, and the calf secured inside a large builders' bag (to prevent further injury and protect those lifting her), she was hauled up the makeshift route and onto a trailer for transport back to the farm. The rescue operation was a success but sadly the calf later died from the injuries sustained in her fall.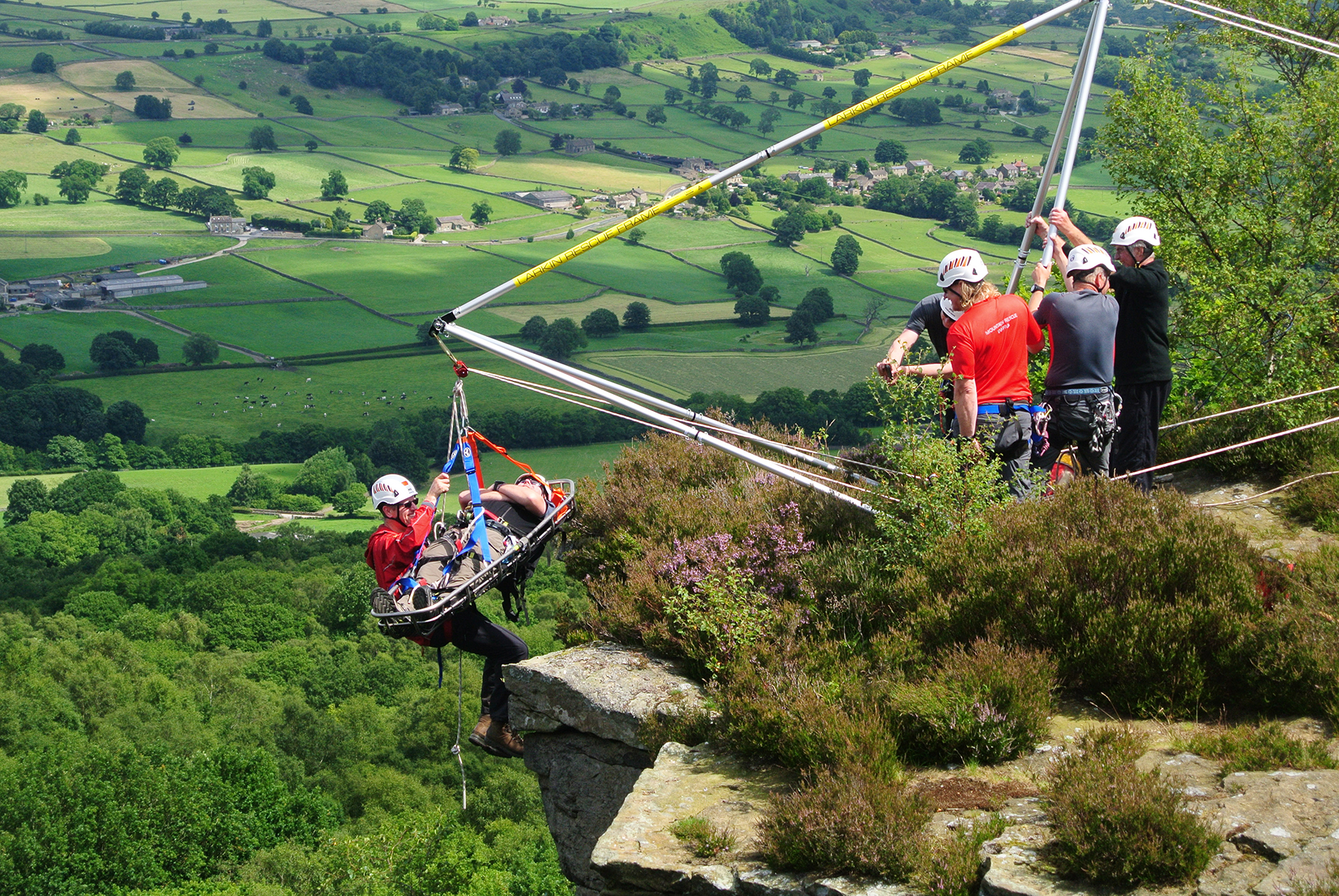 So, incidents like these – the cows and the sheep and the parrots – how DO teams train for them? Indeed, do they? Or is the training they undertake just so all-encompassing and dynamic, team members so practised at thinking on their feet, that it's simply a matter of problem-solving using whatever kit and manpower might be available?
UWFRA's training officer Scott Ferris thinks so.
'Animal rescue scenarios aren't regularly used in our training, as such, other than maybe the use of special harnesses we've obtained for the purpose. But these incidents feed well into our general training – especially with the newer members – and, of course, always enhance our relationship with the local farming community.'
So there you have it. We'll talk more about training another time. For our next blog, we thought we'd continue the theme and head to Lancashire and the Bowland Pennine team for another animal rescue story from 1986, one in which the 'laughing cow' in question very definitely had the last laugh.
Meanwhile, look out for flying sheep and stray crocodiles. Keep your distance. And definitely think twice before you follow that cat home. Or the horse.