…sixty years after the tragedy of his death in a Peak District cavern
---
On Sunday, 22 March 1959, Oscar Hackett Neil Moss became jammed while trying to pass down a narrow unexplored tunnel in Stalagmite Chamber – now known as Moss Chamber – in Peak Cavern, one of England's best known caves with its imposing entrance overlooking Castleton in Derbyshire. In 2006, David Webb's film about the tragedy set about correcting some of the myths surrounding the rescue attempt by talking to those who were there. Based on an article written by David in 2007, we look back at how the incident unfolded and its influence on cave rescue.
Late in January, an email found its way into the editor's inbox. An appeal for help. Not for mountain rescue (the days of calling us out by telegram being long gone) but for information. And not about mountain rescue either.
'I recently read an article on your website [Fight for Life: the Neil Moss story],' said Pete. 'I'd be interested to learn more about this tragic event and the brave rescue attempts. I've tried to find a copy of the DVD online but have been unable to do so. Having checked your website, I can't see it listed there either. I appreciate this DVD is a few years old now but I wondered if you had any suggestions for how I might be able to locate a copy? Any help would be much appreciated'.
Well, it's always good to receive positive feedback – not least for an article published seven years ago – and, as it turned out, we were able to put Pete in touch with the author and filmmaker, David Webb, who also happened to have some copies of the DVD.
All of which reminded us that this year is the sixtieth anniversary of a cave rescue which became a pivotal moment in caving history, the perfect opportunity to retell the tale here. We've also stocked our newly-expanded bookshop with copies of the DVD. Just in case.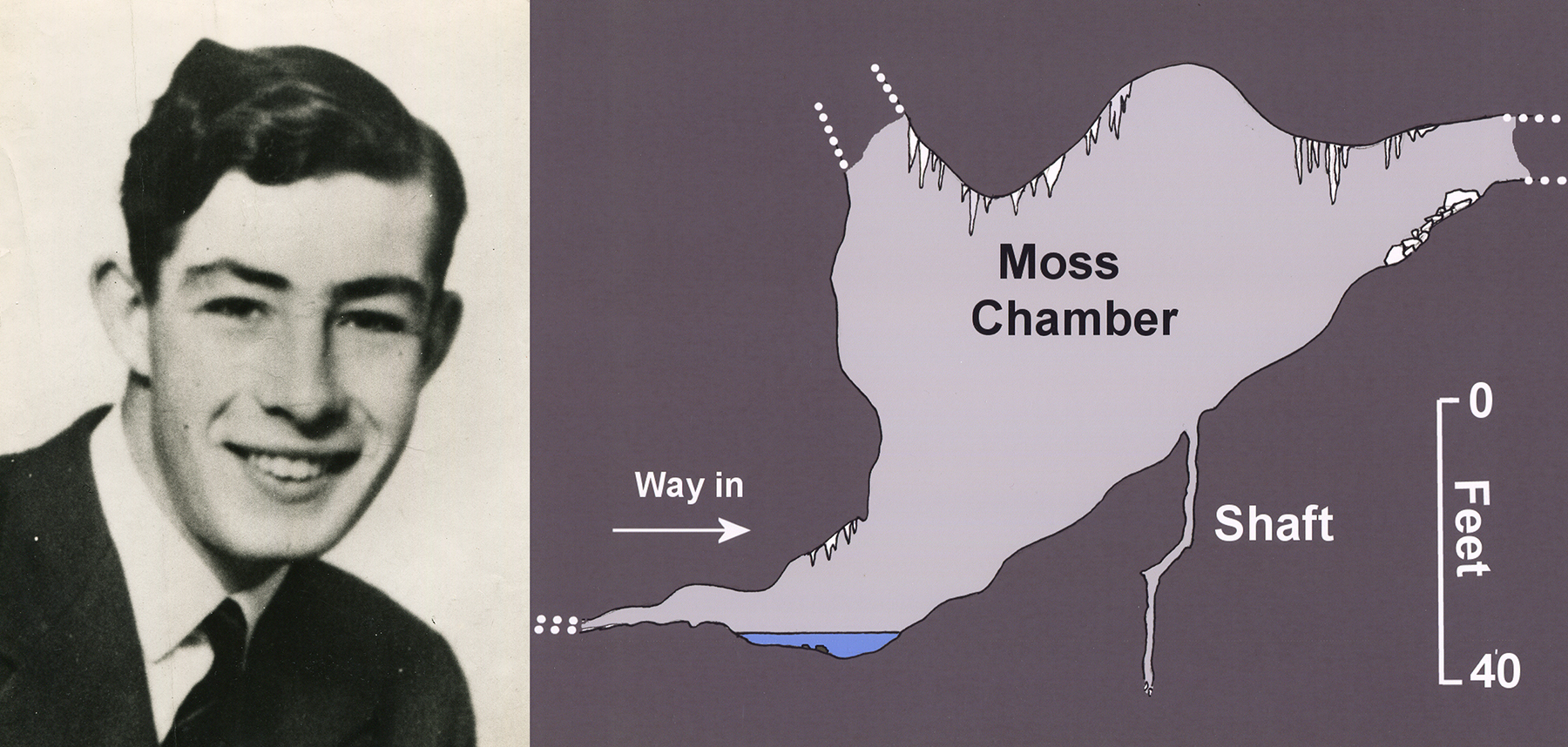 Moss was a twenty-year-old undergraduate, studying philosophy at Balliol College, Oxford, and also the sports-loving son of a British cotton executive. By all accounts he loved to explore and where better than the vast unknown darkness underground?
He was one of eight cavers from the British Speleological Association who entered the Derbyshire cave that fateful day. Their intention was to explore a passage about half a mile from the show cave, discovered just two weeks earlier. They elbowed, crawled and climbed their way through narrow mud-filled passages, a thousand feet below ground until they reached a larger, open chamber from which a still narrower shaft led almost straight down. Slimly built and six foot tall, Moss was the first to descend.
In Race against Time, Jim Eyre and John Frankland describe how four of the party had been involved in the original exploration. 'They knew that the tight shaft corkscrewed and was difficult. They had also estimated that the depth of the shaft was approximately forty feet but seventy-five feet of ladder was lowered down the hole in case the shaft continued'.
At around 3.30pm, Moss forced himself into the hole, 'kicking all the surplus ladder before him. The shaft hung slightly off vertical for twelve feet, then came a difficult corkscrew twist leading to a ten-foot long inclined bedding plane and then a further vertical eighteen-foot drop'.
Thinking he might be able to move the boulders blocking the shaft to one side, Moss manoeuvred himself to a slight recess but in his struggle jammed the loose ladder beneath him. Tired of struggling, he determined to climb out of the shaft, but he never resurfaced. Unable to lift his feet sufficiently to climb back up the ladder he became 'sandwiched in an elliptical slit only eighteen inches wide' and asked the others to pull the ladder whilst he held on to it. They succeeded in lifting him a few feet but then the ladder jammed.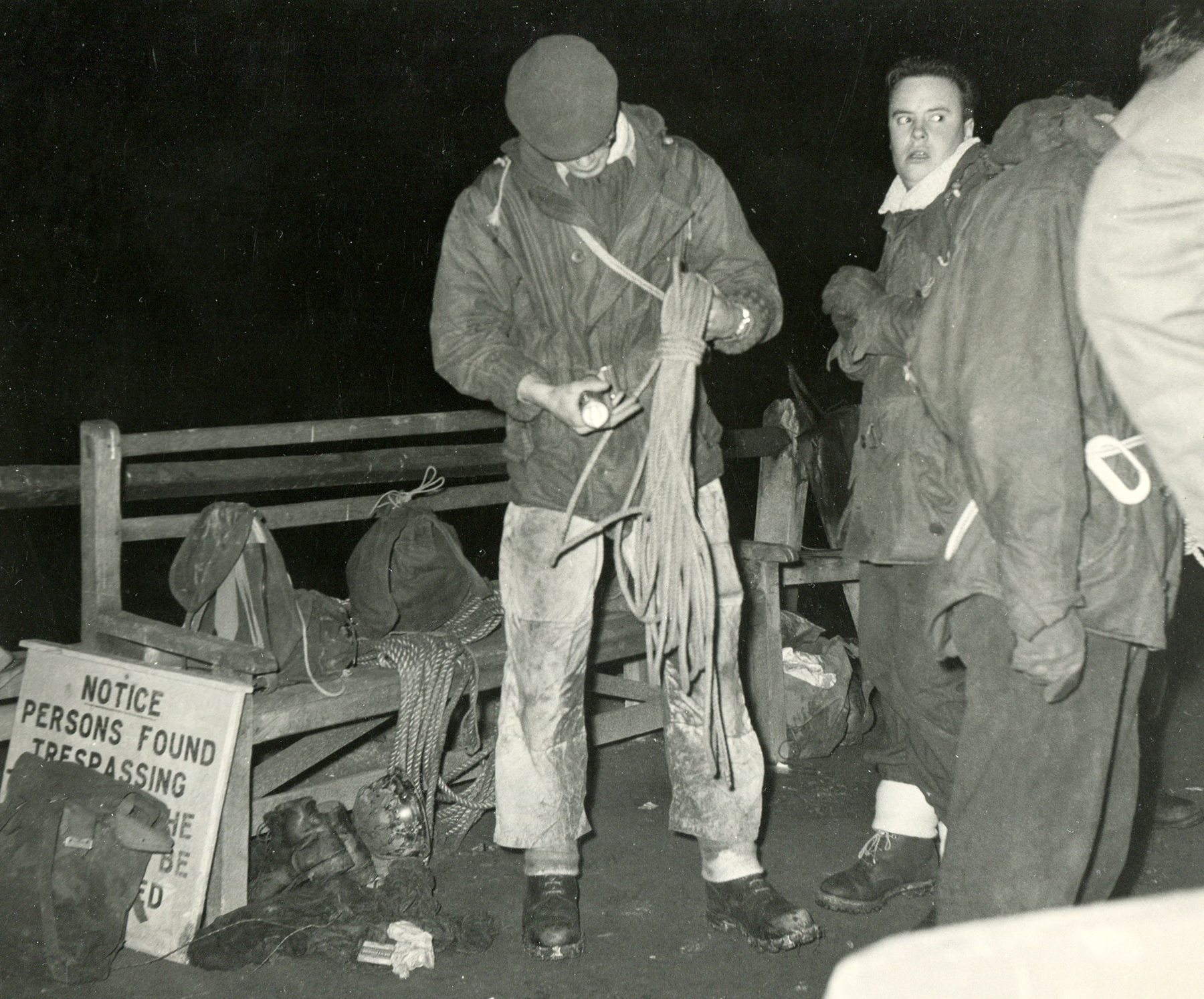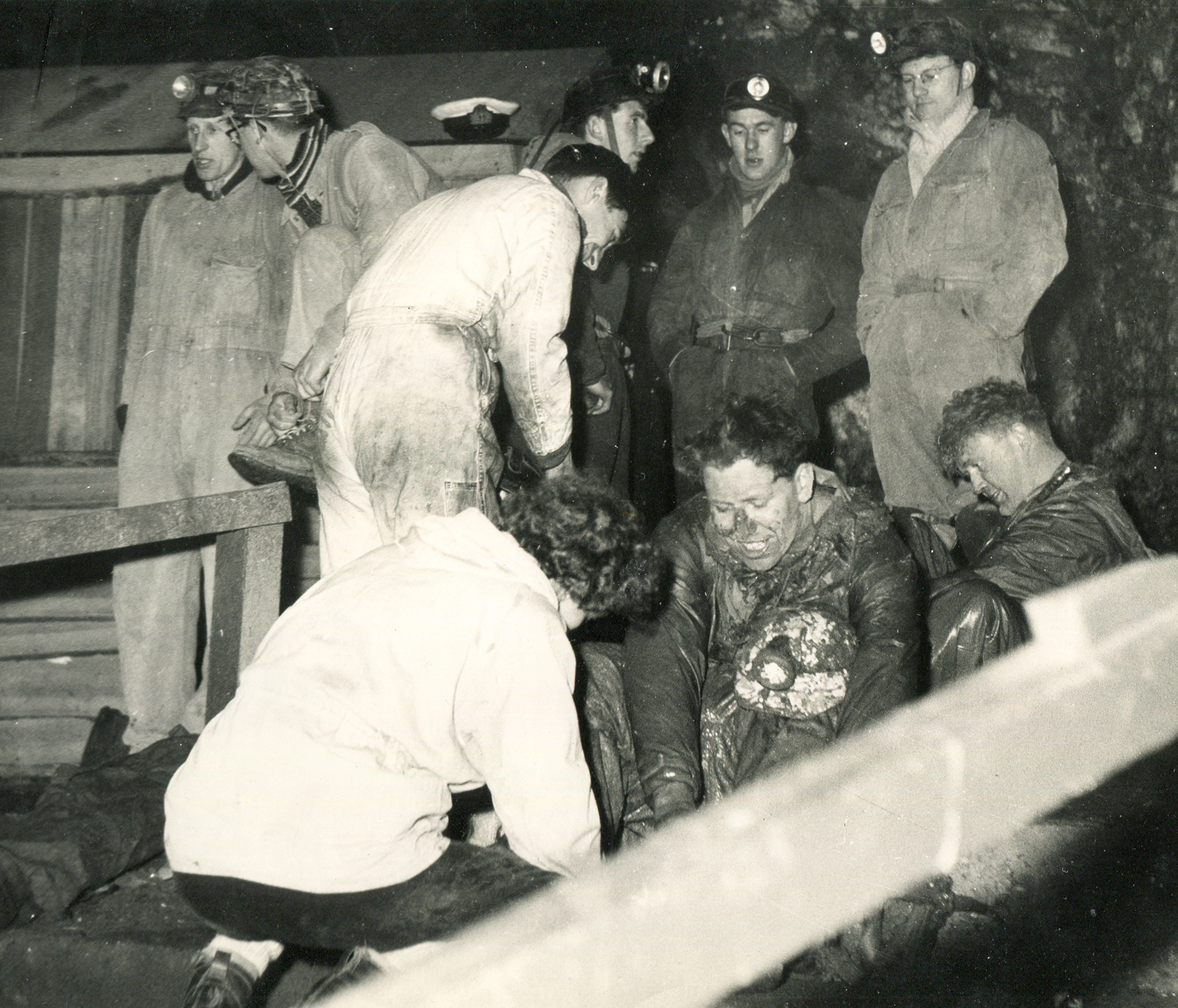 Difficulties such as these are not rare in caving and Moss's companions at first took it for granted that rescue would be a mere matter of lowered ropes and heaving. Gradually, the truth dawned.
Several attempts at hauling him up with ropes ended in failure, each time the rope snapping or shearing on the rock edge. By now the atmosphere was severely polluted, the air flow to the shaft cut off by his body. Moss was clearly becoming disorientated, his behaviour irrational. In The Honour of Being Human, written 25 years after the event, George Cooper, described him as becoming 'less cooperative' seemingly 'unconcerned about the seriousness of his plight' even suggesting to the others 'that they go out and eat'.
His rescuers too began to feel the debilitating effects of carbon dioxide. Three of the volunteers lost consciousness whilst attempting to descend the shaft. A fourth, Ron Peters, succeeded in getting a rope around Moss's chest but this only added to his breathing difficulties.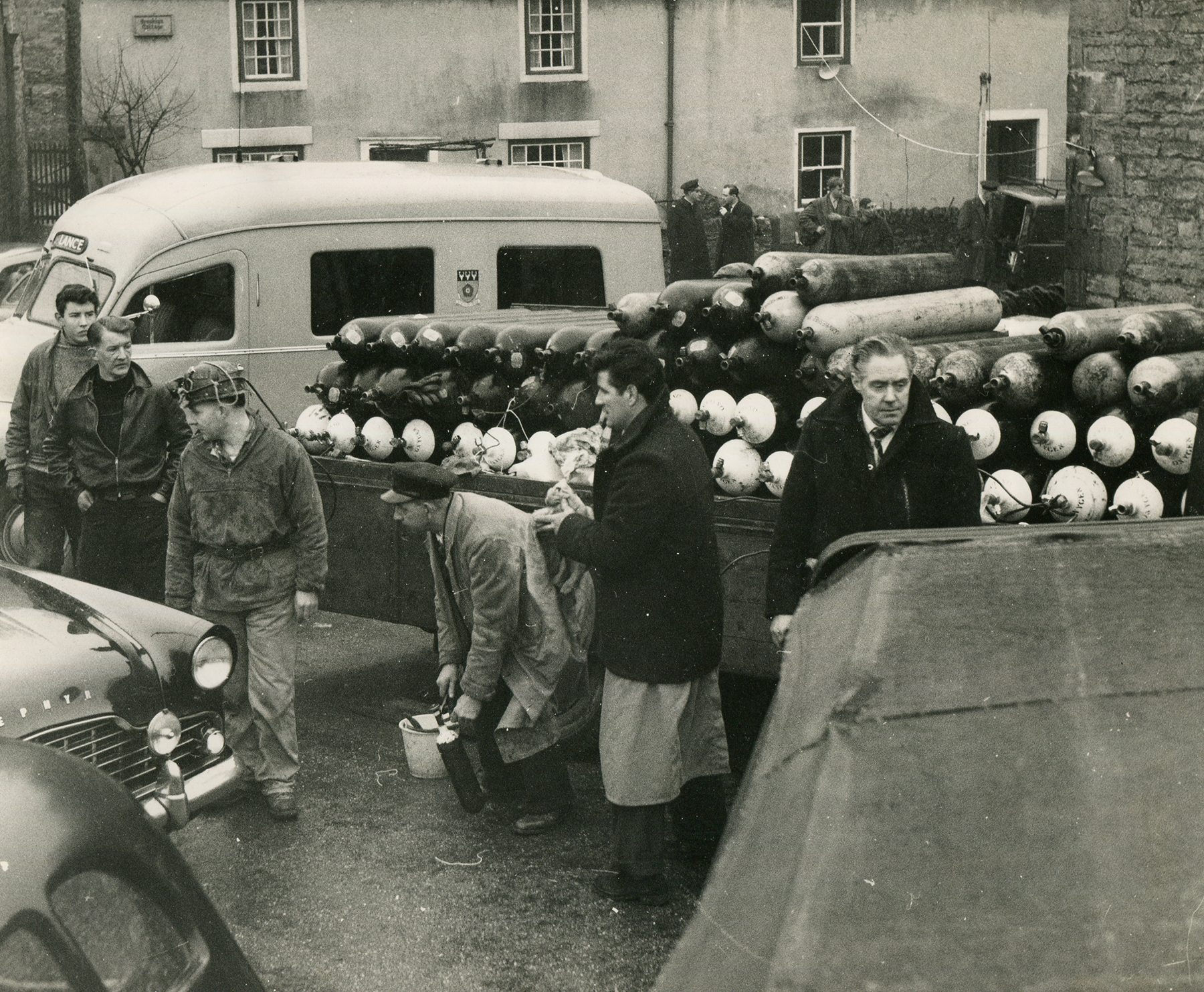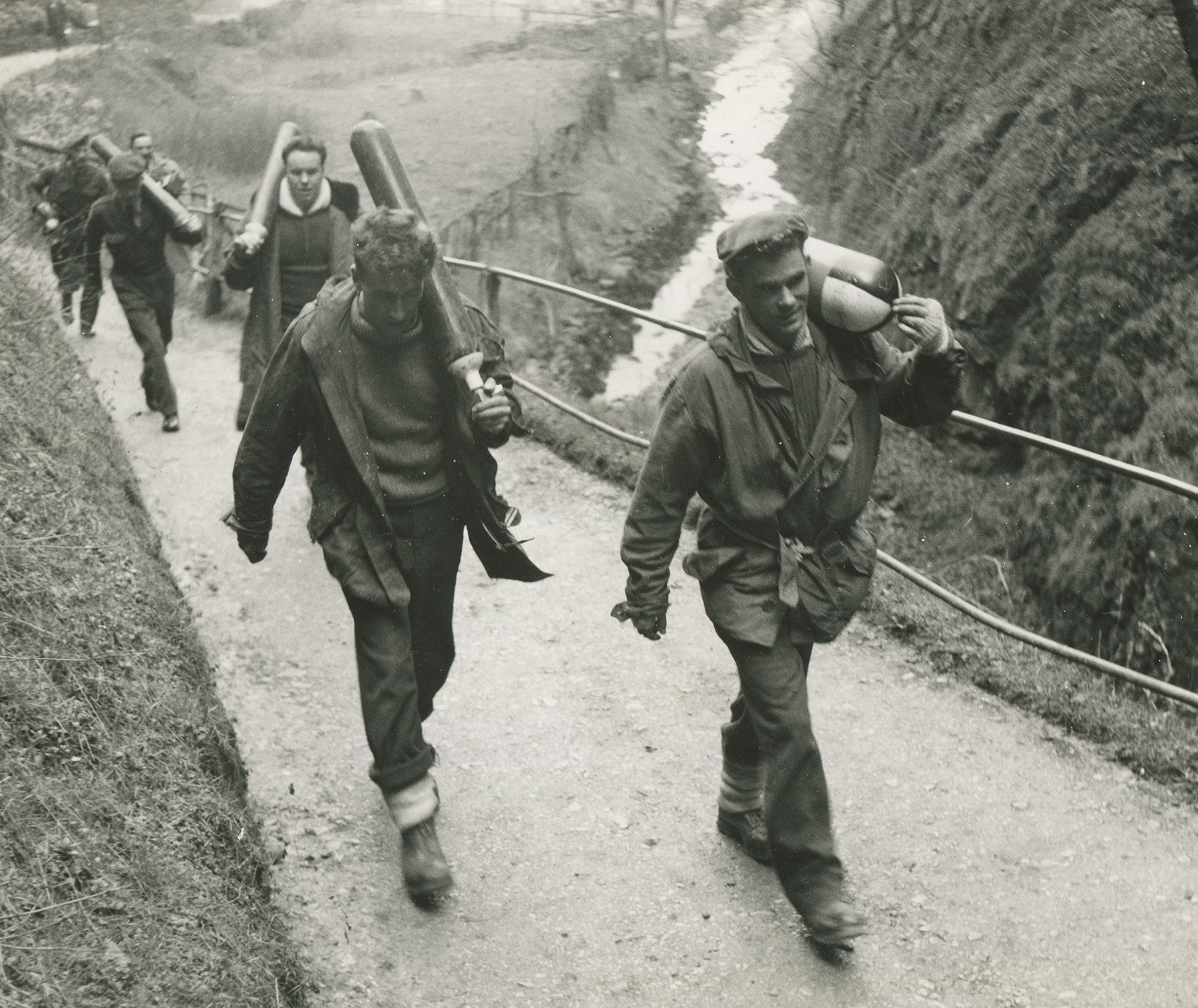 When a delivery of oxygen bottles arrived at 12.30am, it was in the hope that this would revive Moss and facilitate his extraction. Again and again, his would-be rescuers entered the shaft but were forced back, often themselves in a confused and distressed condition.
As an RAF doctor, waist-deep in mud, pumped oxygen down through a tube, a renewed plea went out – for an experienced caver small enough to negotiate the narrow shaft.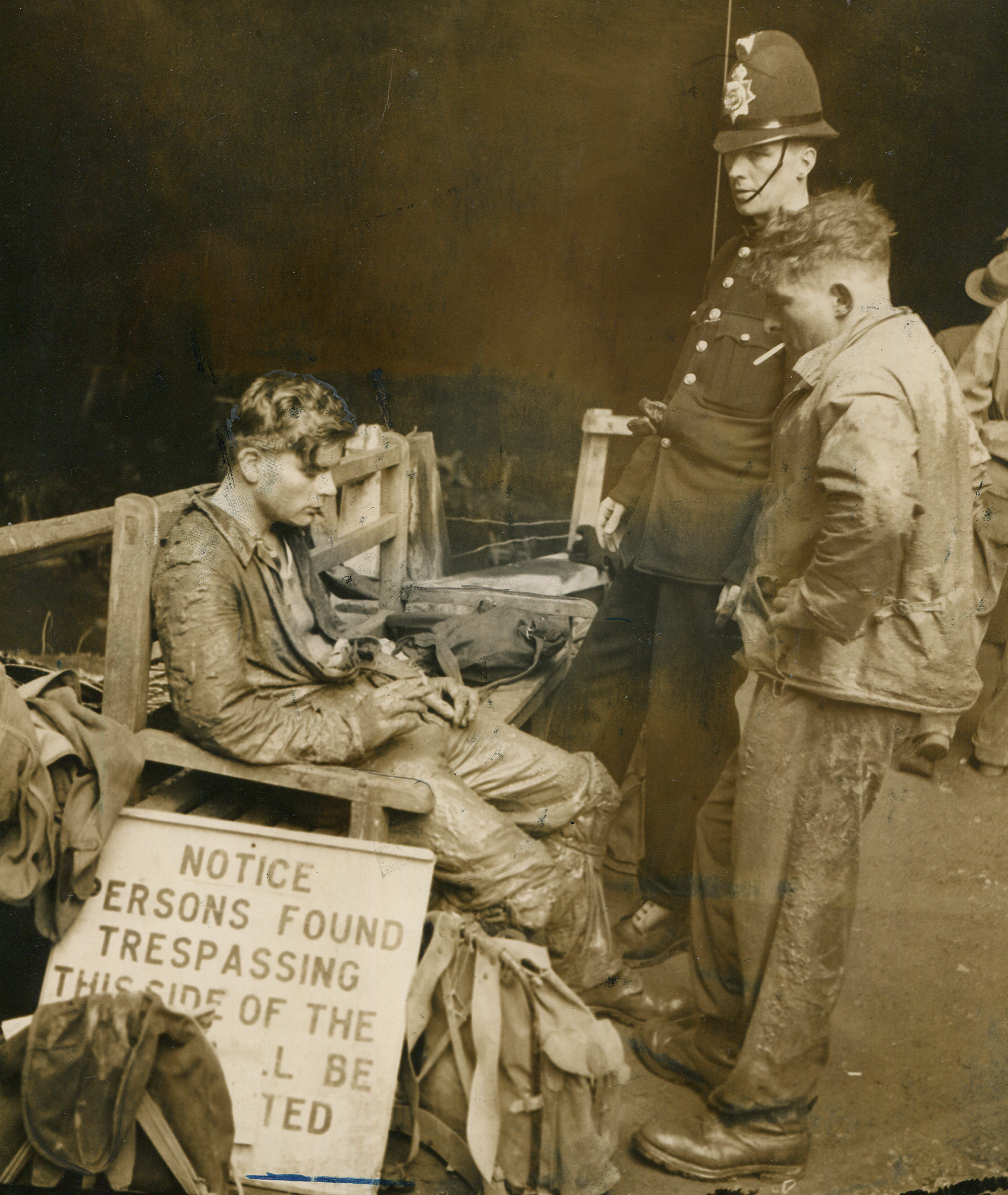 Early in the morning of the second day, eighteen-year-old June Bailey – later described by a British Pathé newsreel as 'a Manchester typist' – turned up, eager to make the descent. A number of media reports later described the part she played in the rescue effort, including that her instructions were to break Moss's collarbones if necessary to free his shoulders. However, none of these can be substantiated, says Webb – though doubtless she did enter the cave.
By early Monday afternoon, almost 24 hours after he had entered the cave, Moss's laboured breathing could still be heard.
'We felt we had to try it all again,' say Eyre and Frankland. 'Compressed air cylinders were used to try to blow the foul air out of the tube. The walls, ladder and rope were smothered in mud. All that could be seen of Moss was an indistinct muddy blockage far below and he was last reported as being firmly jammed in an unmovable position with one arm forced into a recess under a ladder rung with the effort to free him'.
Meanwhile, others tried excavating the rock lower down, hoping to break through into a lower tunnel, but it soon became clear this was in vain.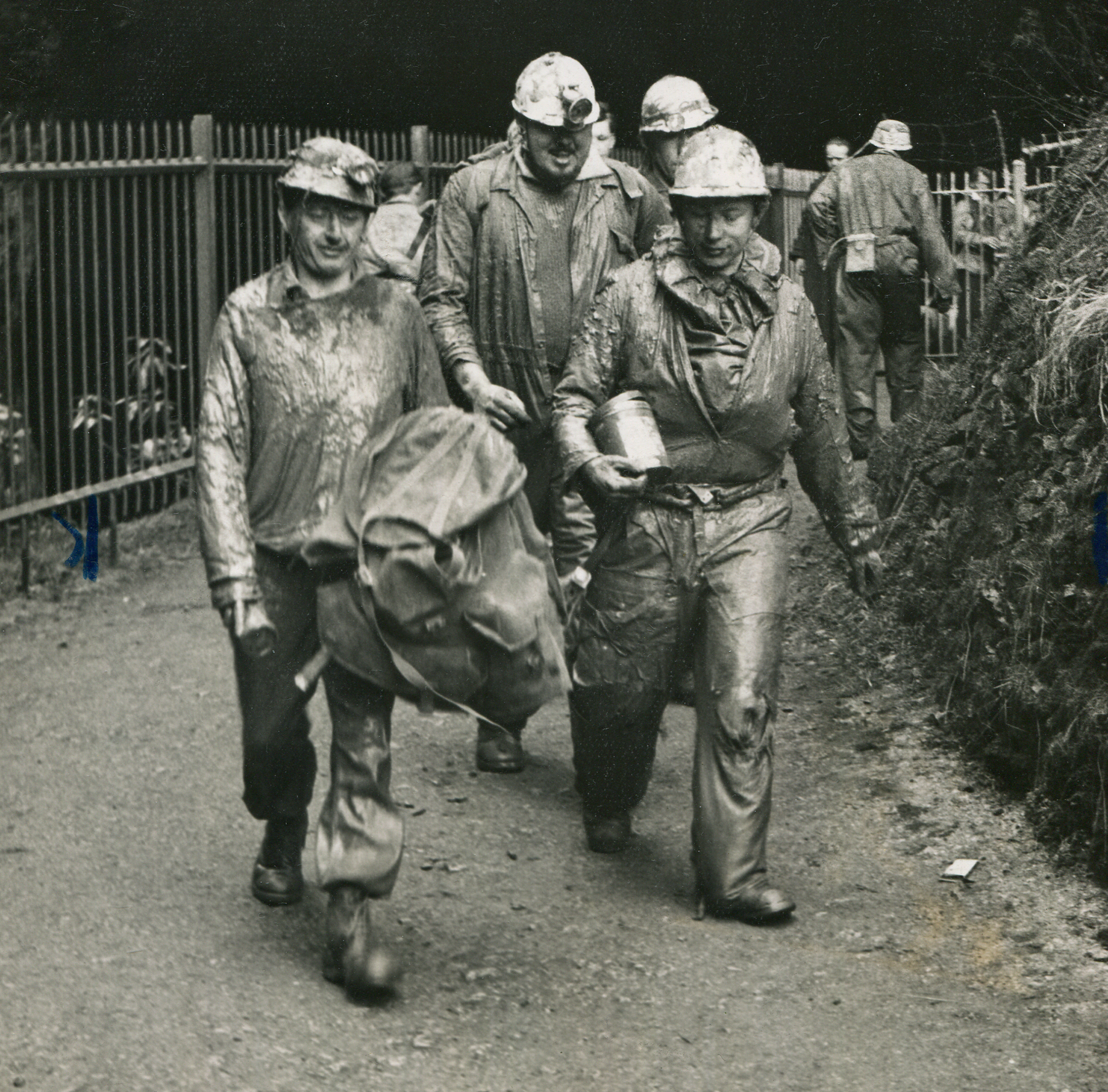 The incessant rain was threatening to flood the Mucky Ducks area of Peak cavern. The advice came through to withdraw, for everyone's safety. When the rain eased off, with one of the RAF doctors to have joined the rescue effort, they returned to the head of the shaft where they had last heard Moss breathing. But this time there was no sound. In Webb's documentary film about the tragedy, Dr Hugh Kidd describes the experience as the first and only time he had declared death without actually seeing the patient.
Though the exact time of Neil Moss's death is uncertain, the inquest stated 3.00am on Tuesday 24 March.
His father, Eric Moss, had waited at the tunnel entrance throughout the ordeal and it was he who requested his son's body be left in place, before anyone else risked their lives. According to those left to clear up, the lower part of the shaft was sealed with a number of loose rocks, collected from the floor of the chamber – not with concrete as frequently reported – and an inscription left nearby.
The Neil Moss story became worldwide news, reported in newspapers in America and Australia as well as here in the UK. On 6 April, Sports Illustrated reported that 'all was quiet for a while' as Moss worked his way down, 'then suddenly from some forty feet below came the terrible, factual statement: 'I say, I'm stuck, I can't budge an inch.'
Radio news bulletins went out via the BBC and, within hours, volunteers from all over England responded to the call for help. The RAF, National Coal Board, Royal Navy and dozens of private caving groups had joined in the rescue effort. Sadly, the intense media interest also drew morbid crowds of 'sightseers' and fed a number of apocryphal accounts of the event.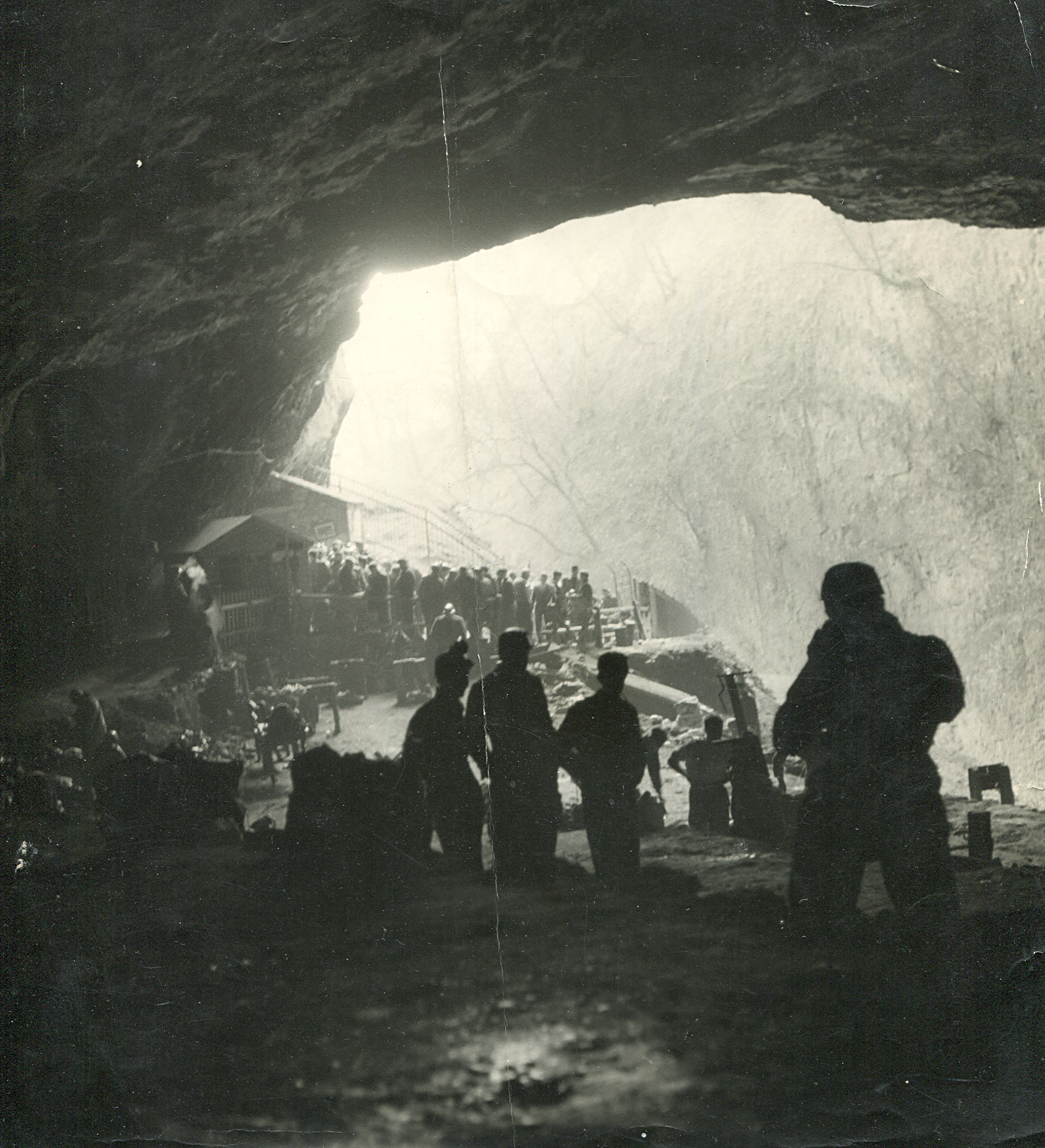 The three-day incident had a huge impact on Castleton and its inhabitants, and all those involved in the rescue. In echoes of the Thai cave rescuers of last year, some of the key figures involved received recognition at the highest level for their efforts. In August 1959, Ron Peters was awarded the George Medal, Les Salmon, John Thompson and Flt Lt Carter the BEM.
As a direct result of the tragedy, new procedures for the call-out and coordination of cave rescue began to take shape. Neil Moss did not die in vain, nor will he be forgotten. The story of his death remains a salutary reminder of the fragility of life and the nature of risk.
In 2004, it was retold in the novel One Last Breath by Stephen Booth and, in 2006, Webb – a Derbyshire caver himself – produced his DVD on the story. Filming had begun several years earlier and continued intermittently, but was finally completed late in 2005, following sustained prodding from the principal protagonists. Time was marching on.
'In 1994, I found myself in Peak Cavern and Moss Chamber. I was already familiar with the outline details of the immense physical and emotional struggle that had taken place there thirty-five years earlier, but the large, well-decorated chamber that housed the tiny shaft which became Neil Moss's final resting place possessed an extraordinary atmosphere that was impossible to ignore.
'Here was human drama which had captured the imagination of cavers and non–cavers alike. The fact that, had he lived, Neil Moss would have been the same age as me, was an additional spur to retell the story, through the medium of video, using the recollections of those who were there.
'The story was already well documented and the announcement to caving colleagues that I was planning to make a film met with mixed reactions. A few thought I'd be opening a can of worms, but most were very supportive and felt the rescue attempt an important part of local caving history and should be recorded for posterity.
'Despite the heroic efforts in almost impossible conditions, there followed many accusations and counter-claims regarding poor organisation and incompetence relating to the failure to extract Neil. Some of the media coverage was negative towards cavers and caving as an activity. Certain quarters called for it to be banned altogether as irresponsible and dangerous'.
'I wanted to show the structure and voluntary nature of our rescue services. The Neil Moss rescue attempt was a pivotal moment in caving history. It focused minds and changed attitudes in a manner that helped move the sport towards a more considered approach and became the catalyst for the reorganisation of the Derbyshire Cave Rescue Organisation. I wanted to record the memories and feelings of those who were there and present a study that was as unbiased and factually accurate as possible.
'Two very full accounts exist – one by Eldon PC member George Cooper (referenced earlier), the other by Les Salmon, one of the rescuers. Both have since died. I was also fortunate to find a box of correspondence between Les and Eli Simpson of the BSA. This included a copy of the police log which revealed the true extent of the three-day operation.
'My first scoop was to be granted an interview with Bob Toogood, one of the original team, who agreed to be interviewed in Moss Chamber. Spurred on by this, I went on to interview others who took part, each with a different perspective.
'The only photographs of the site had been taken by well known French caver Jo Berger, which subsequently appeared in Paris Match (although as coroner's evidence they should not have). My lengthy correspondence with the Paris Match office failed to produce the desired issue. However, I did receive the following week's edition, which contained an article and photos of the diminutive caver June Bailey who had offered to help. The female angle was picked up on by the media although she had not been allowed to descend the shaft. It was some time later when Ralph Johnson produced a yellowing and slightly dog-eared copy from his attic complete with Jo Berger's famous photos.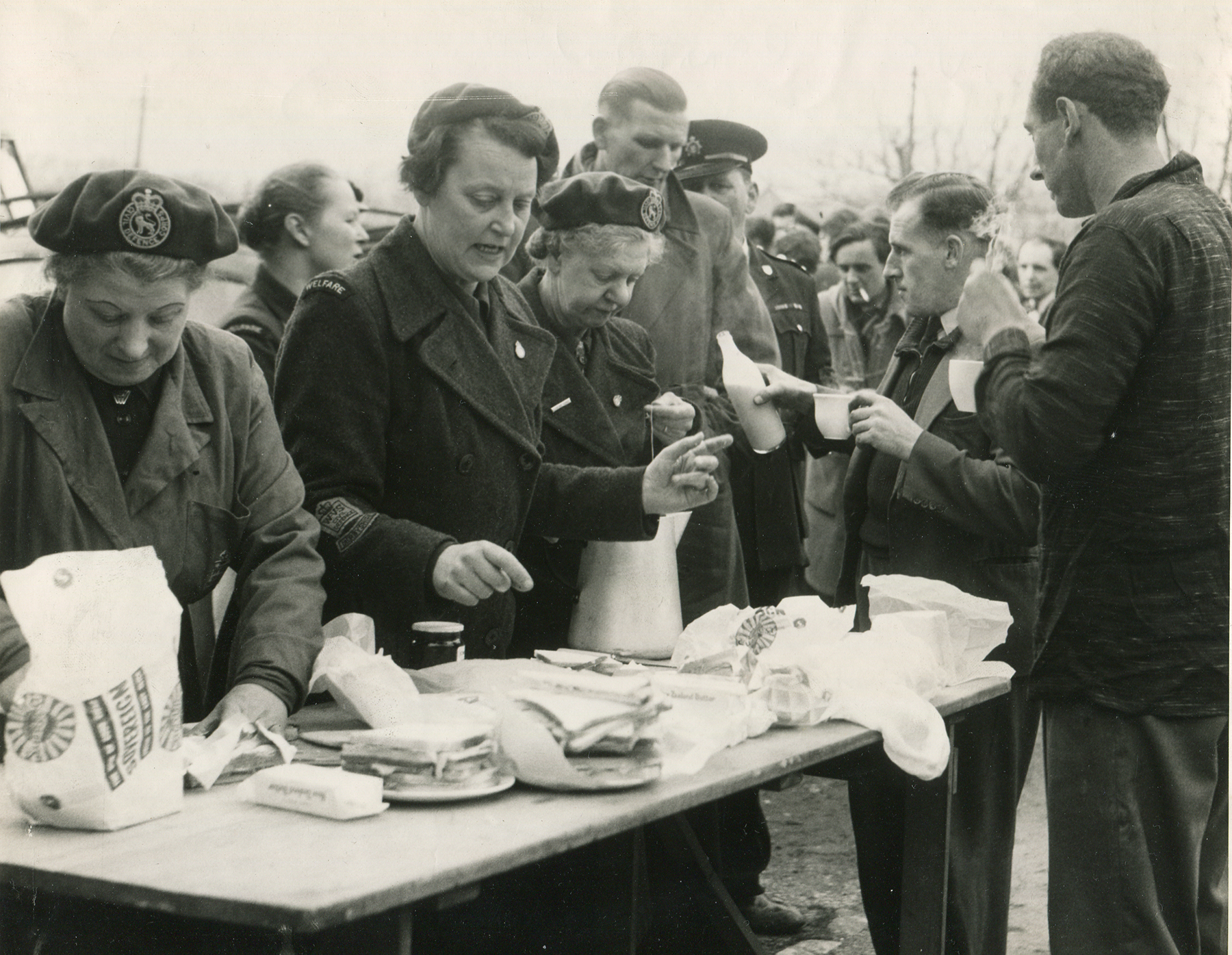 'Eventually, I also received a collection of old press photos from James Lovelock, author of Life and Death Underground, which contains an illustrated chapter on the incident. He had been a freelance reporter with the News Chronicle at the time. This was the icing on the cake, as the quality and relevance of the photos was outstanding.
'Having thoroughly enjoyed gathering material, interviewing people and making new friends along the way, I faced the daunting task of actually making the movie. The hardest part was deciding on the structure and a storyline that flowed, with twelve hours of footage to trawl through and a commentary to make, to fit the sequence of photographs. It took almost a year dipping in and out to complete the project.'
And thirteen years after releasing his DVD, it continues to be well-received. If you, like Pete, would like to secure a copy – and support Mountain Rescue England and Wales at the same time – we now have copies available in the shop.
With thanks to David for his proofreading and corrections, and to Pete, who first inspired us to retell this tale.
References: Mountain Rescue Magazine, July 2007. 'Background to making Fight for Life' by David Webb. Descent (195), April 2007. Wikipedia. Sports Illustrated. British Pathé 'Pothole Tragedy 1959' www.britishpathe.com/video/ pothole-tragedy. 'Race Against Time' by Jim Eyre and John Frankland. 'The Honour of Being Human' by George Cooper, 1984.