… Bowland Pennine's 2006 'winter wonderland' rescue remembered
---
Hard to believe this stunning image of Bowland Pennine team members battling through the snow – which surely must rate as one of the most iconic in recent mountain rescue history – is almost thirteen years old. Thirteen years! Yet still as relevant and fresh as ever.
Given the snowy conditions we've been seeing across the country this last week, we thought we'd give it another airing, and share the story behind the photo. This is a retrospective account from memory, by a handful of team members who were there on the day.
We often talk about temperatures dropping as you head uphill, urging walkers to take hats and gloves and spare clothing because sunshine in the valley can quickly turn to sleet and snow further up and if ever proof were needed that weather conditions can be extremely localised, this is it.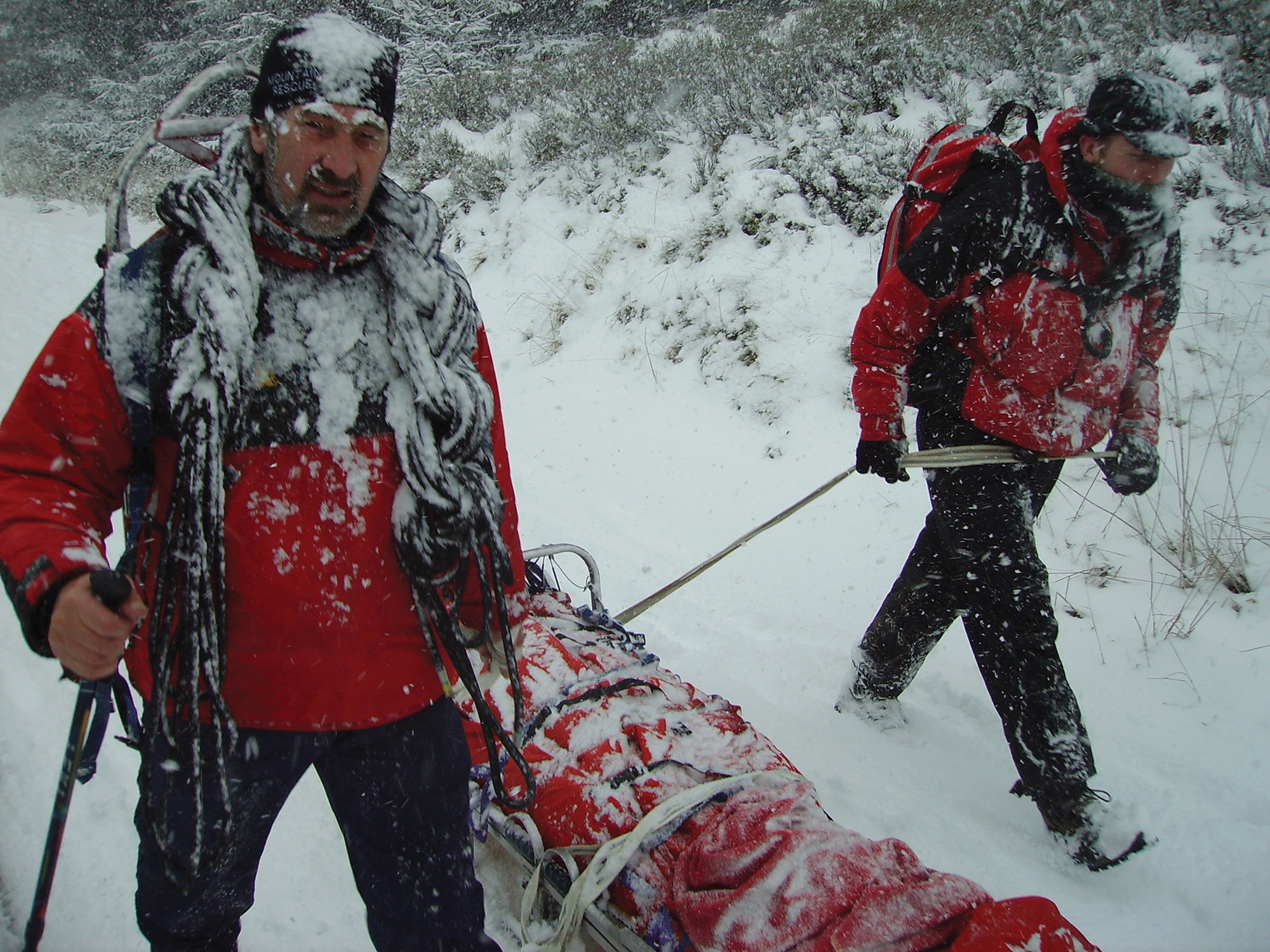 Phil Lund sets the scene: 'Beacon Fell Country Park consists of 110 hectares (271 acres) of woodland, moorland and farmland just north of Preston, in Lancashire. The summit is 266 metres (873 feet) above sea level and offers spectacular views of the Forest of Bowland and Morecambe Bay.
'Opened in 1970, it's popular with people of all ages. The hill has a single carriageway around it, which is one-way (clockwise) with four feeder roads and there's a car park, café, many tracks and a trig point on the top'.

Friday 3 March 2006 began well, with wall to wall clear, blue skies. The perfect day for a trip to Beacon Fell. But, during the morning, conditions changed quite suddenly. A huge snowstorm swept into the area dumping unprecedented amounts of snow onto ground that was frozen above a hundred feet or so. Nobody could have imagined that the volume of snow falling and accumulating would create such difficult conditions in such a short space of time.
Dave Matthews had arrived at Beacon Fell mid-morning, with a group of young people.
'After about 90 minutes, it became obvious that people should leave the area and make their way home – and, of course, assuming the snowfall was covering a large area and not just the local high ground. Snow was now compacted at 150 mm on cold icy ground. The road from the main car park involves a steep descent with a right angle turn at the bottom!
'One of the first to drive away was a small saloon with a male and disabled female. This vehicle crashed at the bottom of the hill, leaving the road and was left suspended above a deep culvert balanced on an embankment, the disabled female passenger helplessly trapped inside.
'The next vehicle, a college minibus full of students from Runshaw College, Leyland, slid out of control and impacted the first. Immediately after this, team member Mick Turner descended the hill in a Freelander and managed to negotiate the turn successfully, coming to a halt to attend to the crashed vehicles. I was behind Mick in my Ford Mondeo which slid out of control all the way down the hill and hit the embankment, narrowly missing the minibus.
'Realising that the students and staff now spilling out of the minibus onto the road were like nine-pin targets for any more vehicles likely to appear over the hill, we did our best to round them up and, with enormous difficulty, shepherd them to safety off the road. No sooner had we done this than another vehicle skidded off the road into the surrounding bog. Nobody hurt at this time. I sent the minibus occupants, and anybody else I could gather up, back on foot to the shelter and safety of the visitor centre and asked people to intercept any vehicles approaching to avoid any further pile up.
'It was clear we needed assistance. I dialled 999 and was put through to North West Ambulance Service (NWAS) control. I explained the situation, stressing that there were no injured parties but that Bowland Pennine team members should be called out, to seek out and evacuate people from the hill. Less than five miles from the incident, the controller had never heard of Beacon Fell, and there was no sign of any snow in their location, so there ensued a long and unproductive discussion about postcodes and road names which was getting nowhere.
'There seemed no willingness to mobilise the team, despite my assurance that there was no need for NWAS crew to attend as well. Their vehicles wouldn't cope with the conditions, and potentially would cause obstruction, adding to the difficulties.
'In the end, I had to tell her I was ending the call and would only talk to Police Control. A few minutes later, Police Control called me. I explained the situation, asked them to contact the team leader and give my name, and advised that there was no need for police attendance and they should not attempt to send any vehicles to the area because of the conditions.
'The superintendent immediately contacted Phil O'Brien, the then team leader, who called out the team'.
'A multi-vehicle RTC on the perimeter road of Beacon Fell', read the call-out pager and team message line. 'Ambulance service unable to reach incident due to road conditions and prevailing weather'.
Further updates added more information as team members arrived on scene. No immediate medical emergencies… numerous RTCs/trapped persons/crashed vehicles on the fell road including two Lancashire ambulances, three police vehicles, a minibus full of children plus a ranger service vehicle… all caught out by a sudden and unexpected deterioration in the weather with heavy snow falling onto already frozen roads with further snow forecast and temperatures expected to dip below freezing.
Team control was established at North Nook Lane, in one of the team's Land Rovers.
Phil Lund was at work when the call-out came. He drove home, picked up his gear and made his way direct to Beacon Fell, with his wife driving. Stuck in traffic at one point, he noticed that the car in front was being driven by fellow team member Rick Barker, so jumped in with him.
'Rick and I looked at each other. SNOW! At our location, it was a little dark, raining but no sign of any snow or icy roads. It was around 1.00pm and we were about 6 km away as the crow flies.
'On our final approach we began to see what all the fuss was about. The roads leading up Beacon Fell were covered in deep snow with more falling.
'We'd just entered a winter wonderland'.

On scene, Dave continued to manage things as best he could. Meanwhile, another two vehicles descending the hill joined the mess! Fortunately, nobody was hurt.
'Soon afterwards,' continues Dave, 'two NWAS ambulances arrived plus a 4X4 with ambulance personnel. They all got stuck in the snow and were no further use to anybody. One parked ambulance was sliding down the road and represented a significant danger so we tethered it to some trees.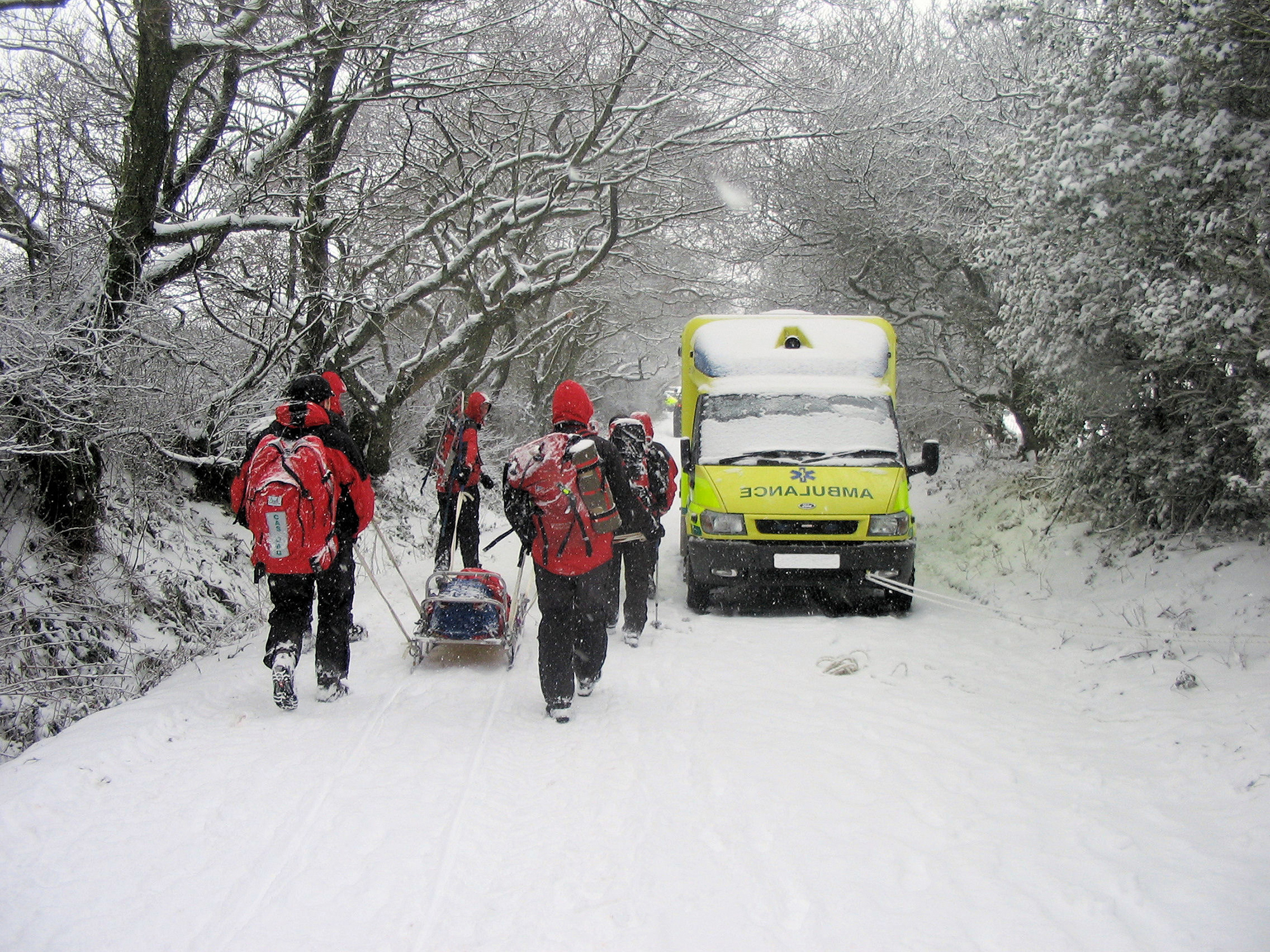 'NWAS personnel were obviously not equipped in clothing or footwear suited to the very slippery conditions and were left to stand around keeping hands warm in their pockets for several hours.
'As team members arrived, they got to work in the Land Rovers and on foot assisting people trapped by snow inside their vehicles around the fell. The disabled lady was extracted from her precariously suspended vehicle'.
Phil and Rick parked up, then walked up to the team control vehicle, passing the tethered ambulance. Shortly after, a fire appliance gave up trying to navigate the same road.
'The situation was a little confusing at first,' says Phil. 'There were many reports of bumps and bangs but thankfully no serous personal injuries. I was tasked with a few others to check the north side of the circular road. Unbelievably, the snow was 150mm deep and showed no signs of thawing any time soon. Looking to the north, I could see bright green fields just below us, before the snow began again on Parlick and Fairsnape fells. It was deathly silent, the snow absorbing all sound. And the temperature was sub-zero with a bone-chilling breeze.
'In the distance we noticed a car, upright but off the road, about 1 km from the team control. On arrival, there was mum, adult daughter and the family dog. No injuries but worried and cold. However, the car was stuck. Clearly our task was to get all three to safety and deal with the car later.
'Mum was unsure on her feet in normal conditions, so the plan was to stretcher her off on the Bell and escort daughter and dog at the same time on foot. But the dog is very old and doesn't walk very far, said the daughter. Okay, we said, the dog can sit on the stretcher too. Simple!
'In quick time we had the stretcher assembled, casbag opened, mum zipped up and fastened in, but the dog was having none of it. No way was he getting on that contraption with these funny looking guys and straps. He was going to walk off.
'And so, our journey began, four of us sledging the stretcher along the road, in the wrong vehicle direction but as there was no traffic, we were okay'.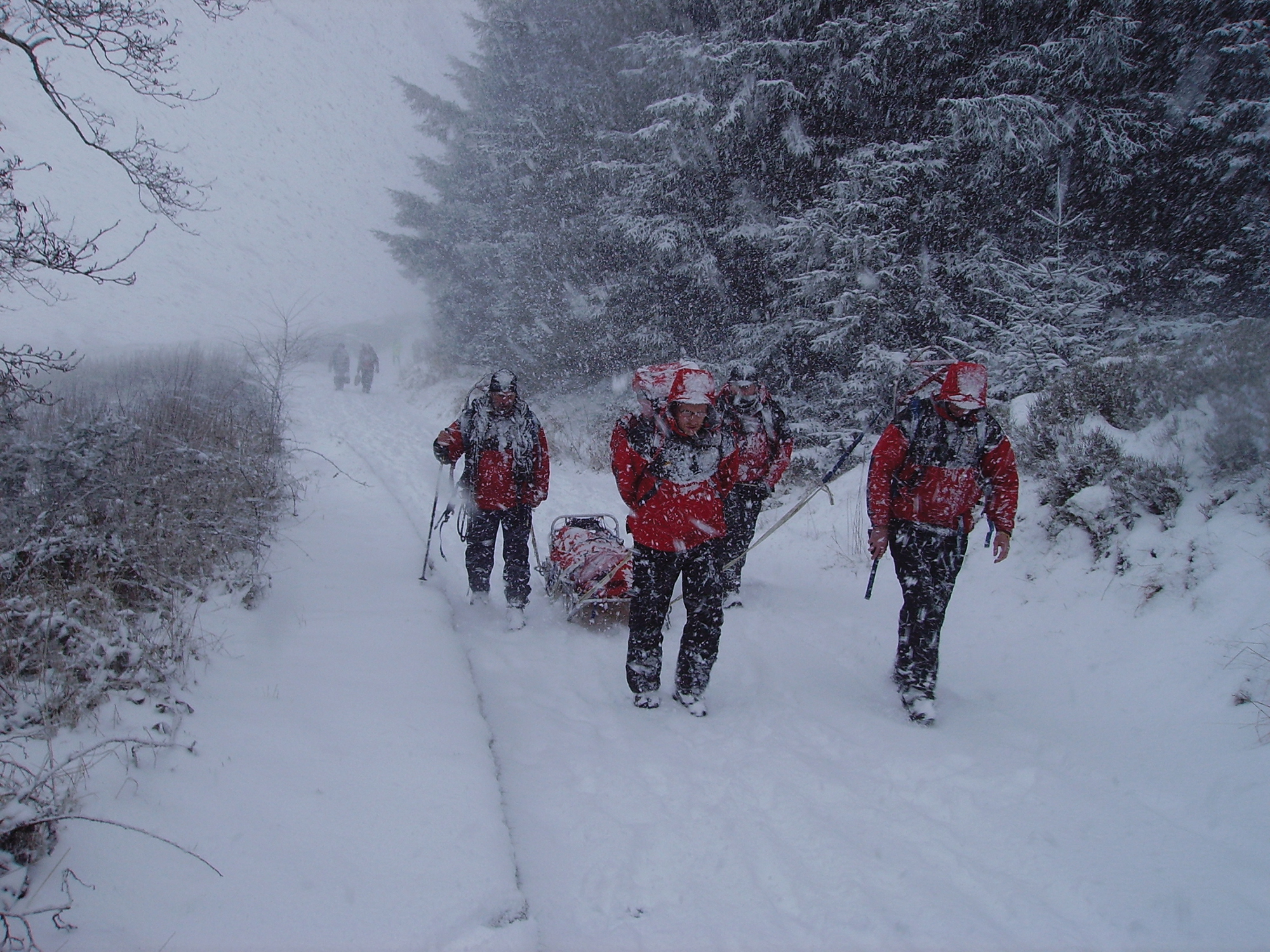 During the whole operation both the air ambulance and Oscar 99 (the police helicopter) flew in and landed in the field adjacent to the original incident and then flew away again finding no use for their services. One of the aircraft had to make a quick re-landing on take-off due to the volume of snow falling.
Yet, back down the hill in bright sunshine, Phil O'Brien was acting as incident control via his radio from a bench on Preston Flag Market, 16 km away.
And the very last vehicle to come over the hill and crash into the scene was a police Mercedes 4X4! We believe a team member might still have the bonnet logo as a souvenir.
Around 26 members of the public on Beacon Fell were escorted to safety that day, to a local pub, the Green Man at Inglewhite, used as a clearing station.
A truly localised alpine winter scene, captured on film by team member Andy Binstead. Sadly, 'Binny' passed away in 2017.
A job well done by Bowland Pennine MRT, with an iconic set of images to capture it.